[7 Eleven] [9.21-10.20] Earn 2,000 - 25,000 Bonus Points
Retailer:

7 Eleven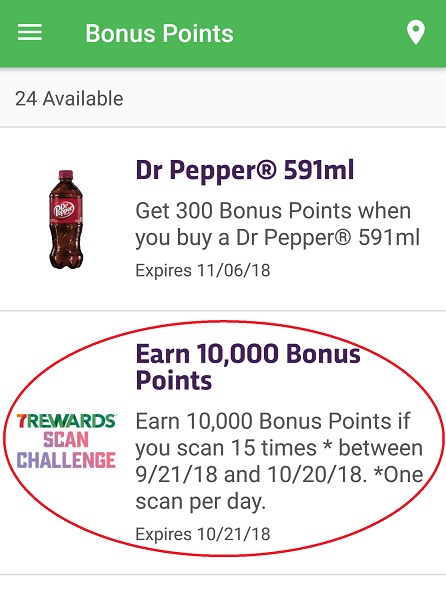 7-Eleven Scan Challenge
Earn 2,000 - 25,000 Bonus Points for purchases made between Sep 21 - Oct 20, 2018
7-Eleven is sending different offers to customers.
It looks like the promo was intended to reach all customers but ~ 5% didn't receive an offer
Click on the Bonus Points tab at the bottom of your app to see what offer, if any, that 7-11 sent you
Typical offers are 4,000 Bonus Points if you scan your app or rewards card six times in the next month. Or 10,000 BP if you scan 15 times
Only one scan per day counts towards the promo
You must be registered through the 7-11 app or with a physical rewards card
Good deal if you are a regular 7-11 customer, especially if you got one of the larger BP offers
Keep in mind that 7-11 is having a free coffee week from Sep 24 - 29, that would be six free scans & of course six free cups of coffee
Free coffees scans (Sep 24 - 29th) count towards your next 7th cup free and this promo but do not accumulate points
per se
The value of each 1,000 BP is about $0.50 - $2 depending on what you use them for. E.g. 1,000 BP will get you a muffin, large coffee or can of Coke
Scans only count with a purchase of "applicable 7Rewards products", pretty much everything except fuel, lottery, tobacco and gift cards
Free coffee scans from Sep 24 - 29 count
7-11 appears to have finally fixed the long-standing time zone problem where scans after 9 pm on the west coast would not work
But this is 7-11 so they have provided a freshly minted bug to stand-in. A small minority of people reporting that their 7th cup free counter is not incrementing during coffee week.
Last edited by
ElroyJetson
on Nov 1st, 2018 9:28 am, edited 11 times in total.