BMO World Elite Mastercard - Devaluation come Jan 15, 2018
Old Design:
New Design: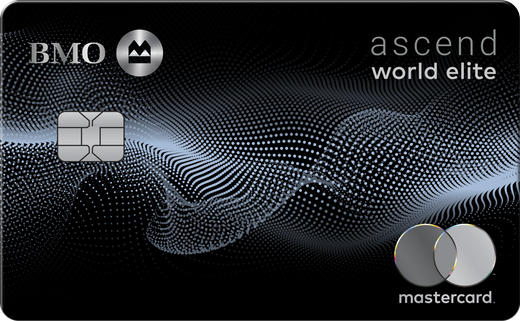 NOTE: This is continuation of the original thread:
http://forums.redflagdeals.com/bmo-worl ... us-862799/
(the OP is not updating the thread anymore)
NOTE #2: The redemption rates will be much worse come Jan 15, 2018. Each $1 redeemed will require 140 points now, instead of 100 points (which will drop the earn rate to 1.43%, hardly impressive and even worst than the BMO WE CB, WHY BMO WHY). For travel, dining and entertainment purchases, they will earn 3 points per $1 spent starting Jan 15, 2018 for an earn rate of 2.14%. Redemption for merchandise and GC will require 20% fewer points, while redeeming for BMO investments will cost 25% less. You will also be able to redeem points against your statement come Feb 2018, although the redemption rate is not clear (Hint: It will NOT BE good). The only good news is, all points earned prior to Jan 15, 2018 will be topped up to ensure 2% CB on travel. Refer to: https://www.bmo.com/main/personal/credi ... astercard/
This card is the big talk in town due to being able to waive the fee on the current Bank Unlimited Plan now (thread link below). This thread is created due to the lack of updates in the old one. I personally love this card and have been using it for quite some time because of the lounge passes. IMO this is one of the best Big 5 CC, especially now that you can get the AF waived through the Bank Unlimited Plan.
Link of card:
https://www.bmo.com/main/personal/credi ... astercard/
Let's get to the features (until Jan 14th, 2018):
- Earn 2 BMO Rewards points per $1 spent (= 2% CB in travel)
- 20,000 welcome bonus on first statement (= $200 in travel)
Note: You will not get this if you got the card through the BMO Bank Unlimited Plan
- Points must be redeemed through BMO Rewards site/contact center (it will cost $25+tax to use the contact center unless you are price-matching or unable to book through the Rewards site)
- Points can be redeemed for travel (2% CB), GC/merchandise (less than 2%) or BMO investment vouchers (less than 2%)
- $150 annual fee, can be waived (refer to below)
- $50 per supplementary card per year (cannot be waived)
- Points do not expire if card is kept in use (Only expire after 90 days of card cancellation)
- Free Priority Pass standard membership ($99 USD) + 4 free lounge passes ($27 USD per pass) every year
- BMO World Elite Total Travel and Medical Protection: car rental collision damage and out-of-country medical expenses up to $2 million, and unlimited-trips-per-year coverage for trips up to 21 days
- Flight+trip cancellation/interruption/delay insurance, baggage and personal effects benefits
- Approval requirements: Minimum $80,000 (individual) or $150,000 (household) annual income required or $2,100 spending on other credit cards per month
How to waive the annual fee for primary cardholder:
(1) Get the BMO Premium Banking plan: $30 monthly fee or waived with $6000 MBM (AF gets refunded between 2-3 CC statements)
Apply through here:
https://www.bmo.com/dst/?PID=MWSDW&MID= ... 099#/intro
(2) Get the BMO Bank Unlimited Plan: You must be a new BMO customer or do not have a BMO bank account/credit card before Jan 1st, 2017 (AF gets waived right away).
RFD Discussion thread:
bmo-free-unlimited-bank-account-new-cus ... y-2085669/
Apply through here:
https://www.bmo.com/main/personal/bank- ... B4-MGBMO14
(3) At stated in the topic, the card is currently first year free if you apply by Nov 30th, 2017 but it seems to apply only to "new" cardholders:
The 20,000 BMO Rewards welcome bonus points offer (worth $200 in travel rewards) and the primary cardholder $150 annual fee waiver in the first year is limited to new BMO World Elite Mastercard accounts. $150 annual fee applies after the first year and will appear on your account statement twelve (12) months after the account open date. First year annual fee waiver does not apply to the additional card annual fee. Applications must be received between July 5, 2017 and November 30, 2017 ("Offer Period") to be eligible for this offer. This offer is not available to current or former BMO World Elite Mastercard cardholders who reinstate a closed account or open a new account. Existing BMO credit card cardholders who transfer into this product during the Offer Period are not eligible for this offer. 20,000 BMO Rewards welcome bonus points will be applied to your BMO Rewards Collector Account following the first statement after your first card purchase. If you cancel your card within thirty (30) days of account opening, the welcome bonus will be cancelled. This offer may be withdrawn or changed without notice.
As usual, let me know if I missed anything.
「もし、奇跡を起こせたら……」