Car Batteries - FAQ, General Information, Tips & Tricks
Seeing that there has been a number of questions about Car Batteries, I decided to put this FAQ together to help the RFD Community.
Disclaimer: The information listed here is based on what I have read and experienced over the years. I don't work for any automotive company and am providing this information as general guidelines. If you have any doubts or don't feel comfortable doing any of the tests, please consult your owner's manual, or visit your mechanic for guidance.
Car Battery FAQ:
Part 1: Voltage Numbers to keep in mind
Battery Voltage:
New Battery voltage fully charged at 21 Degrees is 12.7 volts. This number should be slightly lower in colder weather and slightly higher in warmer weather. Please note that the reading should be taken without any load and after enough time for the surface charge to dissipate otherwise it will give you a false indication of the state of charge.
This chart can be used as a reference:
Starter/Crank Voltage:
If your crank voltage drops to 9.6 volts or lower, this is a sign that your battery may be getting weak and you may encounter starting issues in the winter and may require a new battery.
Here is a good video on how to test the battery and crank voltage with a multimeter. this video shows the voltage levels of a GOOD battery:
This next video shows the voltage of a bad battery and it does not have enough power to start the vehicle. The key thing here to note is that even though the battery voltage at idle is good, the most important voltage is the CRANK voltage which is below 9.6 volts.
Alternator Voltage:
Typical Alternator voltage is between 13.79 to 14.20 volts. On some vehicles, it can be as high as 15 volts. If yours is running higher or lower it could mean that the Alternator's voltage regulator may be problematic. In cases where the voltage is running lower, a serpentine belt that is worn and/or a worn belt tensioner may not provide the required rotation needed for the Alternator to generate the correct charging voltage.
Another area where an Alternator might provide lower than the desired voltage is when there is additional resistance on the ground connections (i.e. dirty/corroded connections). Using a volt meter, measure the voltage between the negative battery post and a good ground on the engine/chassis with the engine running and accessories on. ensure there's no higher reading than .3v dc (300mv). if you see more than that, your grounds need to be cleaned and re-grounded to the ground.
Also, with the engine off, pull the negative terminal, test between the disconnected cable and the negative battery terminal for voltage. This voltage shouldn't be more than a few millivolts, assuming everything's off.
Here is a good video on how to test the Alternator:
Some good reading about Voltages:
https://carbatteryworld.com/car-battery-voltage/
Part 2: Battery Testing and Maintenance
How to test a battery to see if it is the culprit:
Please note that Partsource offers free in car battery testing at many of their stores using a conductance tester.
Some good information can be found here:
https://www.autobatteries.com/en-us/bat ... e/overview
In some instances, one can restore their weak batteries into better condition. This video will show you how:
A popular question that comes up is "My battery was tested to have XXX CCA. When should I replace it?"
While there are many schools of thought about this, it is generally stated that one should replace the battery when the tested CCA value on a conductance test is 20% or lower than the stated CCA value. The logic is that a NEW battery when tested for conductance, will rate between 15% to 30% higher than the stated CCA value (depending on the manufacturer). For example, my Diahard Gold 24F battery manufactured by East Penn, the stated CCA was 650 but the conductance test rated it at 850 CCA. This represents approx 30% higher rated CCA value. If one replaces the battery when the CCA value drops 20% below the stated value (not the conductance measured value), that would mean that the measured CCA is now 0.8 x 650= 520 CCA. This would mean that the measured CCA value has dropped about 40% from the new battery level (i.e 520CCA/850CCA).
My personal approach to battery replacement is to do so when:
1) The measured CCA value is 20% lower than the stated CCA OR if the measured CCA value is lower than the minimum recommended CCA value of a new car battery for your vehicle set out by the auto manufacturer.
2) The cranking amps are hovering under the 10 volt range.
Here is some good reading about age and resistance testing can be found here:
http://batteryuniversity.com/learn/arti ... resistance
A couple additional notes about CCA:
Each battery manufacturer can choose what value of CCA they post for the specs. East Penn tends to be more conservative while other manufacturers may show the stated CCA to be higher.
CCA values are impacted by the state of charge. That means that if you are doing baseline tests for a new battery, it is best to fully charge the battery and remove the surface charge before running your tests. This also means that if your battery is not fully charged and is old, the CCA can decline very quickly. The battery can work one minute and may cause starting issues the next.
Part 3: Shopping for a battery
Look for the battery in your group size that gives you the largest Cold Cranking Amps (CCA) and the largest Reserve Capacity (RC):
http://www.motorweek.org/features/goss_ ... eplacement
Some great information can be found here:
https://www.autobatteries.com/en-us/how ... t/overview
When shopping for a battery, it is important to check the date code as batteries start to corrode (or sulfate) if left uncharged for long periods.
An example of date codes can be found here:
https://www.firestonecompleteautocare.c ... -codes.pdf
Part 4: Brands of batteries and their Manufacturers
East Penn
:
Makers of Walmart's Everstart Maxx, Canadian Tire's Eliminator batteries (after 2015), Parts Source, NAPA, CarQuest, Active Green & Ross Diahard Gold, Toyota/Lexus and many OEM brands. To find out what part number of batteries exist for your vehicle, you can access the Deka Catalog:
http://dekacatalog.com/
Johnson Controls:
Makers of Costco, Optima, Interstate, and Canadian Energy batteries.
To find out the group size for your battery that is sold at Costco and other retailers, you can use this link:
https://www.autobatteries.com/en-us/car-battery-finder
Canadian Energy
batteries offer 42-month non-pro-rated warranty and their Platinum series offers a 60-month non-pro-rated Rated warranty.
For more information about batteries, this is a great source of information:
http://batteryuniversity.com/learn/arti ... _knowledge
Part 5: How to correctly boost/jump start a vehicle properly
Steps:
Make sure both vehicles are turned off and NOT TOUCHING
1.Clamp the other end of the red cable (+) to the positive (+) terminal but this time on the battery of the BOOST car.
2.Clamp one end of the red cable (+) to the positive (+) terminal on the battery of the DEAD car.
3.Clamp one end of the black cable (-) to the negative (-) terminal on the battery of the BOOST car.
4.Clamp the other end of the black cable (-) to some unpainted metal surface near the battery of the DEAD car. This is to ground the connection. Do not connect it to the negative (-) of the DEAD car's battery.
These steps are shown in the image below: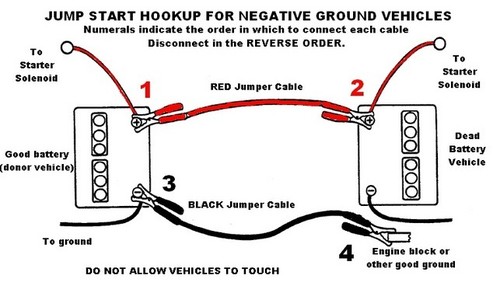 Start the BOOST vehicle. Depress the gas pedal and keep the RPM to over 2000 for several minutes to provide some energy to the DEAD car battery.
After about 5 minutes, make sure the DEAD car has their lights, radio, HVAC settings, Heated Seat, Dash Cam, Phone Charger or just about any device not critical to starting TURNED OFF.
Turn the ignition of the DEAD car to the on position and wait for 5 seconds for the fuel pump to pressurize.
Attempt to start the vehicle. Once started, follow the above steps in the backward order to remove the wiring (i.e. Step 4, 2, 1)
Here is a good video that displays the above procedure.
Another tip is when purchasing or using jumper cables, make sure you use something that is 4 Gauge or thicker. This will ensure that the most current can flow between vehicles. Remember, the LOWER the gauge rating, the thicker the wire. A 2 Gauge wire is thicker than a 4 Gauge. Not the other way around.
Part 6 - Additional Information
Important Information about Intelligent Battery Systems (IBS) on some cars
When it comes time to change your battery, it is important to know if your vehicle has an Intelligent Battery System (IBS). This system monitors the battery charging cycle, charge rate, and battery charge level. The onboard systems store the information of your old battery. It is important that when the battery is replaced that this system is reset so that it can learn the settings of the new battery. Many people may just do a battery swap without resetting this system. As a result, they will end up shortening the life of the battery as it may be overcharged.
BMW vehicles use an IBS and this link will show how to reset it after a battery change:
https://www.youcanic.com/bmw/battery-registration
Radio Anti-Theft Codes
Please note that before disconnecting your battery, it is important to find out if your radio uses any Anti-Theft code to reactivate the unit. Some manufacturers like Honda use this approach and without the code or the means to reinitialize it, you would not be able to use your radio. The codes will be on a small card generally accompanying your owners manual. Alternatively, you could press and hold the volume select button for 2 seconds and that may reactivate the radio.
The video below will show you how to reactivate your radio on a Honda vehicle:
Keep Alive Battery Options
One thing that is often overlooked when swapping a battery is that the onboard computer will be cleared of various information and this can cause issues. One way to resolve this is to look at Keep Alive Battery Options. This video explains the situation:
How to upgrade your Honda Accord Group 51R battery to a Group 35
In an effort to deliver improved fuel economy, many manufacturers look at shrinking the battery size/weight to the detriment of Canadian owners. Honda has followed this trend for well over a decade and those who have Accords know about the issues with their Group 51R battery in cold weather.
Fortunately, there are ways to upgrade the battery to the Group 35 using OEM equipment. This video shows how to replace the existing factory hardware in a Gen 7 to Gen 8 Accord and install a Group 35 battery:
Note that on some recent models of the Accord V6, they actually can accommodate a Group 24F or Group 34R battery. It would be important that you measure the battery compartment to verify if you can place a battery larger than the Group 35.
Recent Articles
Here is an article that was in the Toronto Star talking about Car Batteries and some suggestions:
https://www.pressreader.com/canada/toro ... 1379302759
Last edited by
hightech
on Aug 13th, 2018 2:47 pm, edited 46 times in total.