[Costco] Costco tire gift card deals : $50 for selected BF Goodrich, $70 for selected BF Goodrich winter tires, $70 for Michelin
Deal Link:

Expiry:

December 1, 2019

Retailer:

Costco

https://tires.costco.ca/Home
Get ready for the winter, or if you need all season/summer at this time of the year
Get a $90 ➡
EDIT:
$50gift card when you buy 4 BF Goodrich tires
Get a $110➡
EDIT:
$70 gift card when you buy
BF Goodrich T/A KSI, ADVANTAGE T/A SPORT OR MUD-TERRAIN T/A KM3
winter tires
Get a $110 ➡
EDIT:
$70 gift card when you buy Michelin tires
➡
EDIT
Looks like there is a
hidden
promotion on Pirelli's. Thanks to
@blues45
to inform us that he received a $80 cash card at the purchase of a set of 4 PIRELLI WINTER ICE ZERO FR. Here's his post:
costco-costco-tire-gift-card-deals-50-s ... #p31587048
The gift card is sent to your email within 14 days of purchase. Don't forget to look at your spam folder. This email will have a gift card number, with a PIN number, and a bar code to be scanned at the cash. This gift card can't be applied when you buy the tires
gift card looks like this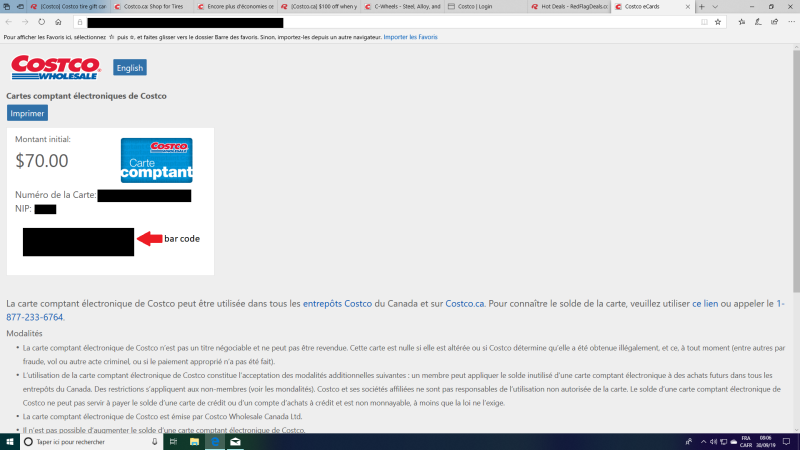 If you buy your tires online you can book your installation appointment here ===>
https://www.costcotireappointments.ca/login
Sorry, no free install with this promotion!
You can combine this deal with the $100 off at the purchase of 4 alloy wheels thread
costco-ca-100-off-purchase-4-alloy-whee ... #p31504447
EDIT:
deal ended Oct. 6
What you get buying your tires at Costco:
Purchasing your tires from Costco Wholesale, whether it be online or from one of our local warehouse locations, provides you with several key advantages. Our published retail pricing includes all of the shipping and handling costs associated with your tires.
The Installation Package also includes Lifetime Maintenance Services that extend throughout the life of the tires you purchase. (some limits may apply). These Lifetime services include inflation pressure checks, tire balancing, tire rotations, as well as flat repairs.
Upon the service of your tires we also install new rubber valve stems (Note TPMS valve stems and accessories will be an additional charge). Additionally, we inflate your tires with nitrogen, not compressed air. Nitrogen retains tire pressure better over time than compressed air, which can positively impact the life of your tires, as well as the fuel economy of your vehicle.
Finally, for your protection, all of our tires are backed with the Costco Road Hazard Warranty.

EDIT: corrected link
EDIT #2 corrected end date
EDIT #3 deal on alloy wheels ended Oct. 6
EDIT #4: corrected cash card amount (deal changed) and end date to DEC. 1st 2019
EDIT #5 : Corrected typos
EDIT #6: added Pirelli hidden promo, thanks again to
@blues45
Last edited by
DoorCrasher
on Oct 21st, 2019 11:11 am, edited 6 times in total.