[Bell] Bell Internet Retention - 1.5gig for $65 (24month) YMMV [GTA]
Retailer:

Bell

As you may be aware, Bell is not nice to existing customers.
So, when I learned about Gigabit Fibe 1.5 for $50 (2 years) + $100 gift card (GTA), I wasn't too thrilled; because I knew I would not be qualified anyway.
Currently, I am with the legacy Gigabit Fibe $130 with a $40 off promo expiring in two months.
Despite getting this promo last year with the new modem that supports Wi-Fi 6, now Bell has Gigabit Fibe 1.5 with this new modem and the regular price is even cheaper at $125!!!
Anyway, I just called to cancel the service today and told them about this and Bell Retention was able to offer the followings: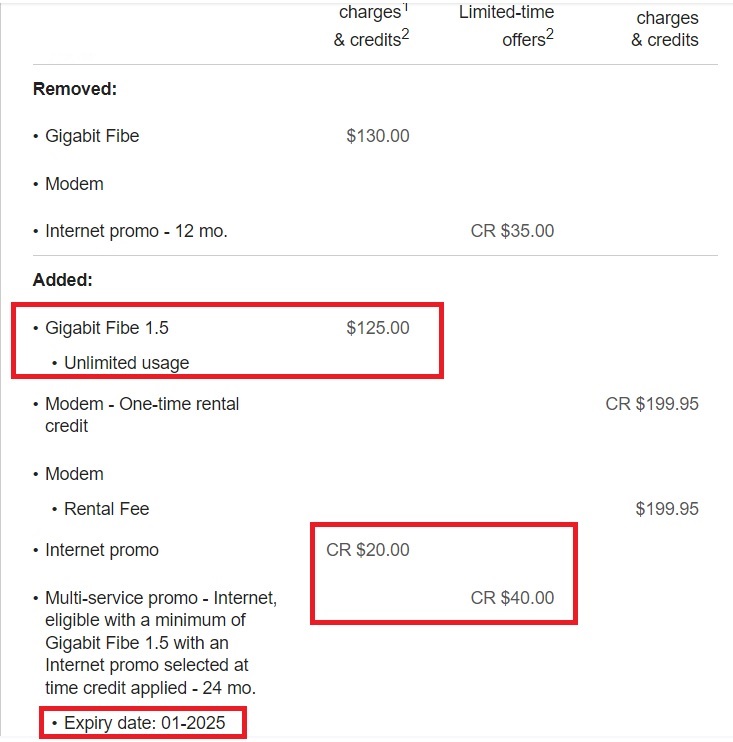 As you can see, I was paying $90 + tax (there was another $5 credit) for the Legacy Gigabit(130 - 35 - 5).
Now, I am getting Gigabit Fibe 1.5 for $65 + tax (125 - 40 - 20) next 24 months.
It is still worse than new customer offers, but I am not a new customer and FWIW, this is amazing given
Bell Retention was the one who was offering
.
Surprisingly, they are open today even if it is Christmas.
So, you may try your luck if you are with Bell and are in my shoes. =)
**just changed the image, so it would not show my order number.
Last edited by
moeseo
on Dec 26th, 2022 1:50 pm, edited 3 times in total.