[Canadian Tire] DEWALT Compound Mitre Saw with Bonus 32T Blade, 12-in, $119.93, YMMV
Deal Link:

Price:

$119.93

Retailer:

Canadian Tire

I was browsing trending CT products on StockTrack and noticed this 12'' Dewalt mitre saw that's currently on clearance in quite a few of CT stores for $119.93 (reg. price is $399, currently on sale on
Amazon
$283 but without an extra blade,
HD
sells for $448 also seems like no blade)
The price won't show up when you browse CT site directly as they're not advertising this price (I guess for their own reasons), but you can check stock and price with this link:
https://stocktrack.ca/?s=ct&q=3991572
You can even place an order with in-store pickup and initially, it will give you order confirmation at full $399 price, but once it's ready to pickup the invoice with show clearance price $119.93 + tax
Shipping within a province is $29.99
This looks like a good saw if you need one at a great price. I would be all over it if I didn't have a mitre saw already.
FEATURES
DEWALT Compound Mitre Saw with Bonus 32T Blade is powered by a 15 amp motor
Spins up to 4,000 RPM
Features stainless steel miter detent plate and cam miter lock to provide repeatable accuracy and durability
Tall sliding fences support 6-1/2" (16.5 cm) of base molding vertically and 5-1/4" (13.3 cm) of crown molding vertically nested
Bevels 0°-48° to the left and 0°-3° to the right
Lightweight design with built-in handles for easier carrying
Three hardened steel bevel stops at 0°, 33.9°, and 45°
Adjustable stainless steel miter detent plate with 11 positive stops
Detent override feature can deliver quick and accurate miter angles
Mitre blade size: 12" (30.4 cm)
Includes: 1 x carbide blade, 1 x dust bag and a blade wrench
Model: DW715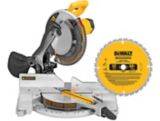 Update
: Looks like RFD effect in action and barely any store now shows stock.
I think once someone ads item to cart stock amount is decreased. Might try later to see if someone changes their mind
Last edited by
seafish
on Jan 5th, 2020 7:44 pm, edited 2 times in total.