[Canadian Tire] MAXIMUM 3/8-in Drive Impact Bolt Remover Set, 70% off
Deal Link:

Price:

19.99

Savings:

70%

Expiry:

April 10, 2019

Retailer:

Canadian Tire

In this week's flyer...
Great tools, life saver when you need it.
Works amazing on rusted rounded bolts.
Regular price is $69.99
Worth picking up at $19.99 as you will surely need it one day.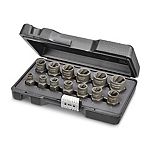 FEATURES
MAXIMUM Drive Impact Bolt Remover Set is ideal for removing rounded off, painted over and rusted bolts and nuts
Made from high carbon steel
Black oxide surface provides greater strength and durability and prevents corrosion
Left-hand spiral flutes flat wrench, adjustable wrench or sockets
3/8" square drive for use with socket wrench or impact wrench
Works on SAE sizes: 1/4", 5/16", 3/8", 7/16", 1/2", 9/16", 5/8", 11/16", 3/4"
Works on Metric sizes: 8 mm, 10 mm, 11 mm, 12 mm, 13 mm, 14 mm, 16 mm, 17 mm, 19 mm