Car Batteries - FAQ, General Information, Tips & Tricks
Seeing that there has been a number of questions about Car Batteries, I decided to put this FAQ together to help the RFD Community.
Disclaimer: The information listed here is based on what I have read and experienced over the years. I don't work for any automotive company or manufacturer and am providing this information on a best effort basis to help the RFD community out. If you have any doubts or don't feel comfortable doing any of the tests or procedures listed below, please visit your mechanic for guidance. Any information listed here is to supplement anything that is listed in your owner's manual.
How long do car batteries last?
This is a very common question that comes up. Typically, a fresh car battery *should* last about 4 to 5 years before it exhibits signs of trouble. Some batteries that have lower Cold Cranking Amps (CCA) (i.e. vehicles with smaller battery sizes) might last less. That being said, I have gotten over 7 years out of the factory Panasonic car battery on my Camry although the cranking was sounding very weak towards the end. Factors that would shorten the lifespan of the battery are:
Technology
Most recent model vehicles have significantly more technology onboard than a vehicle that came out a decade ago. Features like engine start/stop, GPS, Infotainment systems, onboard cameras (dashcam), proximity lighting/keyless entry all require battery power and are kept active even when the engine is turned off. Over time, these features tend to wear a battery out and shorten its life expectancy.
Weather
A lot of car batteries come with climate specifications. It is associated with the minimum temperature at which the battery will start without giving too much trouble. So if you're living in the colder parts of the world, get a battery that will work in the climatic conditions of your place. A lot of people buy the car in a warmer city and then relocate to another, much colder city and face car problems while trying to start. So this is an important tip to keep in mind.
Usage
Overusing the car battery can dramatically shorten the battery life. So don't test it. Keep the front lights off when you don't need them and don't honk too much. Keep the AC and the stereo switched off when your car isn't running. Keeping all the battery-operated parts of the car 'on' when the car engine is not running will drain the battery a lot faster.
Battery Wear and Tear
The manner and periods of recharging and discharging directly affect the battery life span. Every time a battery discharges, there is a loss of metal from the plates. If, however, there is any irregularity in this process, the life span decreases adversely. For example, if the regulator used for charging is faulty, if the battery is overcharged, if the discharging period (period of use) is extended beyond the maximum period, you will increase the wear and tear of your battery. If you keep on discharging the battery for too long, there is a reaction called 'Sulphation' that happens inside the battery, that permanently damages it. Other notable factors include improper handling of the battery, improper placement of the battery inside the car, allowing it to be rattled on rough roads.
Maintenance
Regular battery maintenance goes a long way in improving its life. The next time you send your automobile for servicing, make sure that the guy checks your battery. The battery line and the terminals need to be cleaned and maintained to optimally utilize it so that they won't give any problems in the future. Get the water in the battery topped up and make sure the battery is properly charged when you take delivery of your vehicle. This can help to make sure that the battery delivers full power and does not freeze up in the winter.
With that said, here are some things to keep in mind when testing your battery.
Part 1: Voltage Numbers to keep in mind
Battery Voltage:
A 12-volt car battery contains 6 battery cells which are approximately 2.12 volts each. Thus, the voltage of a fully charged fresh battery at 21 Degrees is about 12.72 volts. This number should be slightly lower in colder weather and slightly higher in warmer weather. Please note that the reading should be taken without any load and after enough time for the surface charge to dissipate otherwise it will give you a false indication of the state of charge.
This chart can be used as a reference:
Starter/Crank Voltage:
When load testing your battery, if your crank voltage drops to 9.6 volts or lower, this is a sign that your battery may be getting weak and you may encounter starting issues in the winter. It would be a good idea to perform some maintenance on the battery and place a battery charger to fully charge the battery. If both of these things still give you a crank voltage of 9.6 or below, this means that you may require a new battery and an examination of your vehicle's charging system.
The CCA rating on the battery refers to the Cold Cranking Amps delivered by a 12V car battery at zero degrees Fahrenheit (-18 degrees Celcius) and a minimum of 7.2V for 30 seconds. The higher the CCA rating of the battery, the better its performance.
Having a higher CCA-rated battery is good winter insurance as CCA degrades through time and to cope during cold seasons. It is easier for your engine to start in warmer temperatures but to have a higher CCA rating gives it more advantage during low-temperature conditions.
Here is a good video on how to test the battery and crank voltage with a multimeter. this video shows the voltage levels of a GOOD battery:
This next video shows the voltage of a bad battery and it does not have enough power to start the vehicle. The key thing here to note is that even though the battery voltage at idle is good, the most important voltage is the CRANK voltage which is below 9.6 volts.
Alternator Voltage:
The typical Alternator voltage is between 13.79 to 14.20 volts. On some vehicles, it can be as high as 15 volts. If yours is running higher or lower it could mean that the Alternator's voltage regulator may be problematic. In cases where the voltage is running lower, a serpentine belt that is worn and/or a worn belt tensioner may not provide the required rotation needed for the Alternator to generate the correct charging voltage.
Another area where an Alternator might provide lower than the desired voltage is when there is additional resistance on the ground connections (i.e. dirty/corroded connections). Using a voltmeter, measure the voltage between the negative battery post and a good ground on the engine/chassis with the engine running and accessories on. ensure there's no higher reading than .3v dc (300mv). if you see more than that, your grounds need to be cleaned and re-grounded to the ground.
Also, with the engine off, pull the negative terminal, test between the disconnected cable and the negative battery terminal for voltage. This voltage shouldn't be more than a few millivolts, assuming everything's off.
Here is a good video on how to test the Alternator:
Honda/Acura Dual Mode Charging System
Honda and Acura have utilized a dual-mode charging system to increase fuel efficiency and to decrease the drag on the engine when starting. The two modes can accomplish as much as 10% load reduction on the
engine by allowing the Electric Control Module (ECM) to determine charging rates based on information gathered from an Electric Load Detector (ELD) and various other sensors.
During heavy electrical or mechanical loads (i.e., if the AC clutch is engaged), the ECM will set the charging voltage to 14.4-14.9V (high output mode)
During startup and light electrical load conditions, the ECM will set the charging voltage to 12.4-12.9V (low output mode). In the latter case, this anomaly might cause a technician to try to diagnose a low charge problem, although it is normal to have 12.5-12.7 charging voltage when the parameters are met.
More details about the Honda/Acura charging system can be found here:
https://opensiuc.lib.siu.edu/cgi/viewco ... =auto_pres
Part 2: Battery Testing and Maintenance
How to test a battery to see if it is the culprit:
Please note that stores like Partsource, Kaltire, and Mr. Lube offer free in-car battery testing at many of their stores using a conductance tester.
Some good information can be found here:
https://www.autobatteries.com/en-us/bat ... e/overview
In some instances, one can restore their weak batteries into better condition. This video will show you how:
It is a good idea to perform some battery maintenance once a year. This video will show you all you need to know about Battery Care and Maintenance, and dealing with battery corrosion:
Battery Charger Suggestions:
Common questions that come up when talking about chargers are: What is a good battery charger for my vehicle? What additional benefits do I get from buying a $35 charger vs. a $70 or $100 charger?
To help answer these questions, here are my picks for battery chargers:
Schumacher SC1302 8A 12V Rapid Charger (Sells for around $30):
https://www.amazon.ca/Schumacher-SC1302 ... B07895PH6S
Features:
- Easy to use. Press one button and the charger will charge the battery and fixes any issues it may detect.
- Charges Standard, AGM, Gel, and deep-cycle batteries
Another option is the MotoMaster Eliminator Precision Series 4 Amp Battery Charger & Maintainer (often on sale for around $40):
https://www.canadiantire.ca/en/pdp/moto ... 1968p.html
This model has a few more features than the Schumacher:
- Better wiring that stays flexible in colder weather.
- The option to select the AGM or cold weather mode. This is helpful to get a more complete charge on the battery in cold weather.
- 1 Amp charge mode which is great for charging smaller Sealed Lead Acid batteries (for UPS, Alarm System, Garage Door Backup, etc.).
- Repair function that you can use to help bring your battery state back to near new levels. Just make sure you top up your battery fluid with distilled water before using the repair feature.
NOCO GENIUS 5 (often on sale for $80):
https://www.amazon.ca/NOCO-GENIUS5-Full ... 07W8KJH44/
Additional benefits over the other 2 chargers:
- Dedicated modes for Flooded, AGM, Lithium batteries so that you can correctly set the battery yourself vs. the charger deciding for you.
- Charging of 6 Volt Batteries
- Force mode setting to help charge severely discharged batteries (i.e. sends a max Amp charge to the battery for a short period to "give it some juice" and then revert to a smart charger to get the battery fully charged.)
- Repair function that you can use to help bring your battery state back to near new levels. Just make sure you top up your battery fluid with distilled water before using the repair feature.
If you plan on using the charger in colder weather or outdoors, I would go with the CTEK 4.3 Amp Polar Charger (often on sale for around $110):
https://www.amazon.ca/CTEK-56-958-Autom ... 00GODCLYU/
This charger is designed to work outdoors in cold weather and is a well-regarded brand.
Many car manufacturers have partnered with CTEK and have rebranded their chargers (i.e. Audi, BMW, Ferrari, Porsche, etc.):
https://www.ctek.com/uk/client-brand-chargers
Note: Make sure that any charger you purchase is CSA or UL approved with regards to electrical wiring. You will need to keep a charger working for some time (and in most cases unsupervised). It is important to have wiring that can handle current and has proper safeguards. I would AVOID any low price charger that does not have proper wiring. Saving a few dollars and buying a substandard charger that could be a fire hazard is not worth it to me.
Repair Mode Usage Suggestions:
Chargers that have a Repair mode could help to remove any desulfation on the battery and work to get the max power out of the battery. I would run this feature every 6 months so that the desulfation is kept to a minimum and to prevent any internal shorts in the battery due to excessive buildup. Please note that to get the most out of this feature, you should do the following:
- Check the water levels on the battery and top it off with distilled water. NEVER use tap water as it contains minerals that will damage the battery.
- Fully charge the battery with the regular mode depending on your battery type (i.e. flooded or AGM)
- After it has been fully charged, turn the charger off, disconnect the cables, and wait about 1 hour to let both the charger and battery rest.
- Connect the cables back to the battery and enable the recondition/repair mode. This will let the charger do what it can to remove the desulfation from the battery.
One note about all chargers is to try to keep the Amp level at 8 Amp or below. I would not recommend any battery charger over 8 Amps. Most car manuals and battery manufacturers suggest using a slower charge as it will create less heat and damage on a worn battery. Also, note that the Max charging current only applies when the battery is in the bulk charging state. That means that once your battery hits around 50% or higher, the charge current will start dropping as the focus on the charger becomes a slow absorption cycle. This allows the battery to take as much of the voltage needed at a lower current to bring the battery back to new or near new levels.
The graph below will give show the relationship between current and voltage at the various charge phases: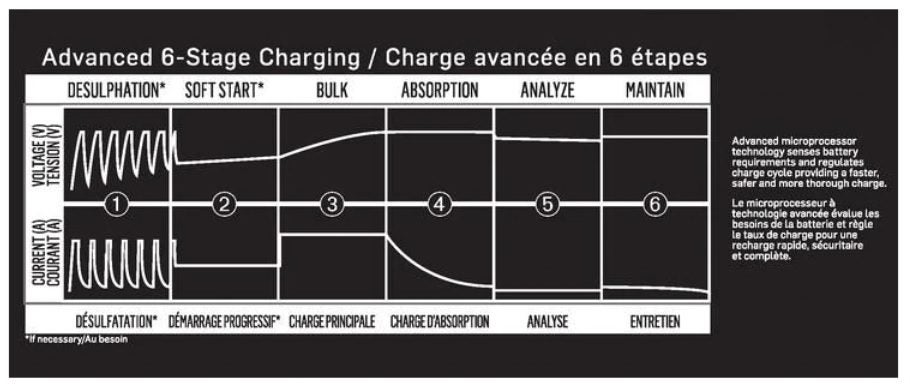 A popular question that comes up is "My battery was tested to have XXX CCA. When should I replace it?"
While there are many schools of thought about this, it is generally stated that one should consider battery replacement on a proactive basis when the tested CCA value reported on the conductance tester is 40% lower than the stated CCA value on the battery. The logic is that a NEW battery when tested for conductance, will rate between 10% to 20% higher than the stated CCA value (depending on the manufacturer). For example, my Diehard Gold 24F battery manufactured by East Penn stated CCA was 650 but the conductance test rated it at 717 CCA. This represents approx 10% higher rated CCA value. I would suggest that you do a battery test every November and monitor the CCA, charge, and overall health of the battery.
The logic for proactive battery replacement is that the colder the outside temp, the less power the battery has. Sometimes being proactive on battery replacement is the difference between having the car start on a cold day when you need it, and needing a boost. You have used the BEST part of the battery over the years and are just on borrowed time. To quote Clint Eastwood "Do you feel lucky?"

Here is some good reading about age and resistance testing can be found here:
http://batteryuniversity.com/learn/arti ... resistance
A couple of additional notes about CCA:
Each battery manufacturer can choose what value of CCA they post for the specs. East Penn tends to be more conservative while other manufacturers may show the stated CCA to be higher.
CCA values are impacted by the state of charge. That means that if you are doing baseline tests for a new battery, it is best to fully charge the battery and remove the surface charge before running your tests. This also means that if your battery is not fully charged and is old, the CCA can decline very quickly. The battery can work one minute and may cause starting issues the next.
Part 3: Shopping for a battery
How Many Cold Cranking Amps Do I Really Need?
A battery should be big enough to allow reliable cold starting. The standard recommendation is a battery with at least one Cold Cranking Amp (CCA) for every cubic inch of engine displacement (two for diesel). CCA rating is an indication of a battery's ability to deliver a sustained amp output at a specified temperature.
Specifically, it is how many amps a new, fully charged battery can deliver at 0 degrees Fahrenheit for 30 seconds and still maintain a minimum voltage of 1.2 volts per cell. A rule of thumb says a vehicle's battery should have a CCA rating equal to or greater than engine displacement in cubic inches. A battery with a 280 CCA rating would be more than adequate for a 135 cubic inch four-cylinder engine but not big enough for a 350 cubic inch V8.
My suggestion is to look at the Owners Manual or see the CCA on your factory battery and use that as a baseline. You can always get a slightly larger CCA battery (within reason) but I would NEVER go smaller. Higher CCA offers a larger margin of safety and will help provide improved reliability to start your vehicle on cold days if the battery is properly charged, maintained, and in reasonable health. Keep in mind that for batteries to have higher CCA, they have more plates in the battery to generate power. The downside is that those plates are made thinner to fit the battery and extremely hot days can cause those plates to warp and possibly short. This is why I would not suggest you go with some super-duper CCA battery if you experience 30 degree + temps in the Summer or very high under hood temps in the car. This is why you will find that some batteries have markings for "north" or "south" in tests as they are designed and sold for the climates that drivers would experience.
What do I need to look for in a battery, and where can I get a good one for a fair price?
This seems to be the most popular set of questions that come up on RFD. Let me answer the first part: What do I need to look for in a battery
There are 3 important things to look for in a car battery:
Cold Cranking Amps (CCA): Try to find one that has more than what is the minimum recommended for your vehicle
Reserve Capacity (RC): This is now long the battery can provide current when the engine is turned off. Having a larger reserve is great for things like dashcams that are kept on during parking mode. They also provide some safety if your car's interior light was left on overnight.
Warranty: Make sure you get a battery with the longest NON-PRO-RATED warranty. This means that if the battery fails during the time period, they will give you a replacement battery without deducting the number of months you used it. If you get a PRO-RATED warranty, the discount you get on a new battery is based on how long you have used the existing battery. For example, some battery manufacturers have a 48 month/100-month non-pro-rated/pro-rated warranty. The first 48 months, they offer a full replacement, and the remaining months (months 49 to 100) is a portion of the warranty. This is interesting in that if you wait for month 49, you pretty much only get about 1/2 your money vs getting the full amount the month before!
The next question that comes up is: Where should I get my battery from?
If you are a Costco member, and you are comfortable installing the battery yourself, I would suggest you go there. They offer a 48-month non-pro-rated warranty, good quality batteries, and are priced cheaper than other places.
If you are not a Costco member, I would suggest you check out places like Walmart, Canadian Tire, Active Green and Ross and other places. Most batteries are made by 2 big manufacturers and are sold under different brand names with different warranties. I have listed some more info about this in Part 4 below.
Comparing Batteries from various manufacturers/retailers
Some great information can be found here:
https://www.autobatteries.com/en-us/how ... t/overview
When shopping for a battery, it is important to check the date code as batteries start to corrode (or sulfate) if left uncharged for long periods.
An example of date codes can be found here:
https://www.firestonecompleteautocare.c ... -codes.pdf
Battery Group Size and Terminal Orientation:
Sometimes when you are shopping for a battery, you might encounter a situation where the exact model you need may not be available and require an alternate size. The questions that always come up is:
1) Will the battery size fit?
All batteries in North America go by a BCI Group Size. You can look at the battery size guide here to see what will fit and what does not:
https://www.jegs.com/Sizecharts/bcigroup.html
. For example, on my 2012 to 2014 Camry, the standard size is 24F. An alternate can be a Group 34R (with the adaptor) or a Group 35 Battery.
2) Will the terminals line up in the correct orientation and will the wires reach?
You will notice that some batteries come with an R or an F lettering after the Group size. This indicates the orientation of the terminals. For example, a Group 24F and 24R indicates that the positive/negative terminals flipped. When in doubt, take a tape measure and measure the distance from the terminals to the end of the battery closest to the wires. This will make sure that the connections are secure and not getting stretched.
Important: When you are faced with a situation where you need to get an alternate battery size, my suggestion is to always go with the battery with the higher CCA and higher reserve capacity that what the owners manual states. For example, the Group 24F battery alternate is a Group 34R or a Group 35. Many times the Group 35 batteries are smaller in size and the CCA/Reserve may be lower than the 24F model. The Group 34R batteries may have higher CCA/Reserve values than the Group 35.
Part 4: Brands of batteries and their Manufacturers
There are essentially 2 big players that manufacture car batteries: East Penn (Dekka), and Clarios (formally known as Johnson Controls).
East Penn
:
Makers of Walmart's Everstart Maxx, Canadian Tire's Eliminator batteries (after 2015), Parts Source, NAPA, Toyota/Lexus, and many OEM brands. To find out what part number of batteries exist for your vehicle, you can access the Deka Catalog:
http://dekacatalog.com/
Clarios
:
Makers of Costco, Optima, and Interstate batteries. Also, as of 2019 the Diehard brand of batteries have changed suppliers from East Penn to Clarios.
To find out the group size for your battery that is sold at Costco and other retailers, you can use this link:
https://www.autobatteries.com/en-us/car-battery-finder
The Costco Canada Battery Lookup page can be found here:
https://tires.costco.ca/batteries
Optima battery lookup information can be found here:
http://www.optimabatteries.com/en-us
Interstate Batteries lookup information can be found here:
https://www.interstatebatteries.com/battery-finder
Part 5: How to correctly boost/jump start a vehicle properly
Steps:
Make sure both vehicles are turned off and NOT TOUCHING
1. Clamp the other end of the red cable (+) to the positive (+) terminal but this time on the battery of the BOOST car.
2. Clamp one end of the red cable (+) to the positive (+) terminal on the battery of the DEAD car.
3. Clamp one end of the black cable (-) to the negative (-) terminal on the battery of the BOOST car.
4. Clamp the other end of the black cable (-) to some unpainted metal surface near the battery of the DEAD car. This is to ground the connection. Do not connect it to the negative (-) of the DEAD car's battery.
These steps are shown in the image below: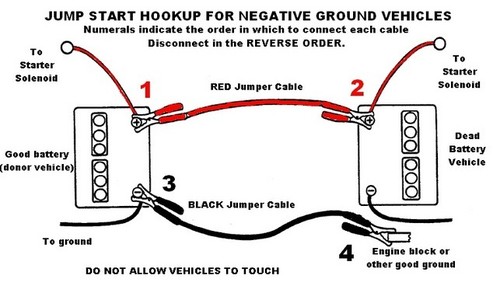 Start the BOOST vehicle. Depress the gas pedal and keep the RPM to over 2000 for several minutes to provide some energy to the DEAD car battery.
After about 5 minutes, make sure the DEAD car has its lights, radio, HVAC settings, Heated Seat, Dash Cam, Phone Charger, or just about any device not critical to starting TURNED OFF.
Turn the ignition of the DEAD car to the on position and wait for 5 seconds for the fuel pump to pressurize.
Attempt to start the vehicle. Once started, follow the above steps in the backward order to remove the wiring (i.e. Step 4, 2, 1)
Here is a good video that displays the above procedure.
Another tip is when purchasing or using jumper cables, make sure you use something that is 4 Gauge or thicker. This will ensure that the most current can flow between vehicles. Remember, the LOWER the gauge rating, the thicker the wire. A 2 Gauge wire is thicker than a 4 Gauge. Not the other way around.
Part 6 - Battery Installation
Installing a car battery can be a fairly simple process depending on the vehicle in question and your skill/comfort level. Depending on where you shop for batteries, some stores only charge about $25 to swap the battery and can charge higher depending on how complex it is to change it on your vehicle. This may not be a bad idea to get it installed as the stores will not charge you for the core fee on the new battery (which you can get back when you trade in your old battery). Keep in mind that there is taxes that are charged for the core fee that are not returned. Also, factor in your time, gas costs, cost for tools (i.e. wrenches, cleaning brushes, battery cleaner/protector sprays), the weather (i.e. is it raining/snowing, super hot/cold when you are installing it), and if you are physically comfortable swapping a 45+ lb corrosive acid filled battery around to save a few bucks. The costs of installation over the service life of a battery are fairly insignificant (i.e. less than a cup of coffee).
With that said, if you are adamant about doing the installation yourself to save a few $$ and be a true RFDer, here is a great resource that will show you how to swap batteries for your vehicle:
https://www.youtube.com/channel/UCNGQ9F ... p3A/videos
Please note that I am not a mechanic and can't guarantee that the tips and techniques in the videos presented emphasize all the safety concerns for your vehicle and for you. Again, if you don't feel comfortable doing this, get the battery installed by a competent mechanic.
Part 7 - Additional Information
Important Information about Intelligent Battery Systems (IBS) on some cars
When it comes time to change your battery, it is important to know if your vehicle has an Intelligent Battery System (IBS). This system monitors the battery charging cycle, charge rate, and battery charge level. The onboard systems store the information of your old battery. It is important that when the battery is replaced that this system is reset so that it can learn the settings of the new battery. Many people may just do a battery swap without resetting this system. As a result, they will end up shortening the life of the battery as it may be overcharged.
BMW vehicles use an IBS and this link will show how to reset it after a battery change:
https://www.youcanic.com/bmw/battery-registration
Radio Anti-Theft Codes
Please note that before disconnecting your battery, it is important to find out if your radio uses any Anti-Theft code to reactivate the unit. Some manufacturers like Honda use this approach and without the code or the means to reinitialize it, you would not be able to use your radio. The codes will be on a small card generally accompanying your owners manual. Alternatively, you could press and hold the volume select button for 2 seconds and that may reactivate the radio.
The video below will show you how to reactivate your radio on a Honda vehicle:
Keep Alive Battery Options
One thing that is often overlooked when swapping a battery is that the onboard computer will be cleared of various information and this can cause issues. One way to resolve this is to look at Keep Alive Battery Options. This video explains the situation:
How to upgrade your Honda Accord Group 51R battery to a Group 35
In an effort to deliver improved fuel economy, many manufacturers look at shrinking the battery size/weight to the detriment of Canadian owners. Honda has followed this trend for well over a decade and those who have Accords know about the issues with their Group 51R battery in cold weather.
Fortunately, there are ways to upgrade the battery to the Group 35 using OEM equipment. This video shows how to replace the existing factory hardware in a Gen 7 to Gen 8 Accord and install a Group 35 battery:
Note that on some recent models of the Accord V6, they actually can accommodate a Group 24F or Group 34R battery. It would be important that you measure the battery compartment to verify if you can place a battery larger than the Group 35.
Recent Articles
Here is an article that was in the Toronto Star talking about Car Batteries and some suggestions:
https://www.pressreader.com/canada/toro ... 1379302759
Starting and Charging - Tips and Troubleshooting
While replacing a bad battery may be required, it is important to make sure that the Starting and Charging System is working optimally. The following link will show you how to do this:
https://www.knowyourparts.com/category/ ... -charging/
5 Ways to make your car battery last longer
Test for Parasitic Drain
Some people may have experienced starting issues if you keep your vehicle parked for a week or more. Things like this can be attributed to Parasitic Drain, which is a drain on the battery from devices that are pulling more than 50 milliamps. Typically things like this can be associated with a dashcam that is running in parking mode, an interior light left on, etc. For most people, this would not be an issue unless you have a older battery that has not been maintained based on the suggestions I mentioned above.
This video will give you an idea of how to test for parasitic drain:
How to Change a 12V Prius Battery
Step 1: Check to see if you need a battery replacement. This video will show how to invoke the diagnostics mode in your car and look at the voltage level:
Once you have determined that you do need a new battery, this video shows how to change the battery in a 2010 to 2015 Prius. Just make sure you don't damage the temperature sensor (located near the negative battery cable) and the battery vent tube.
If I want to change the battery myself, what tools do I need and where can I go to get the correct battery?
Here are the list of tools needed to change the battery:
Either a 1/4" or 3/8" drive ratchet.
An extension for the ratchet, about 5" long. A 3" is too short; an 8" probably too long.
10 mm socket, preferable a deep socket
12 mm socket, shallow or deep.
Large flat screwdriver or small crowbar. It will be used to spread the battery terminal for easy removal.
An old glove, rag or some other method to cover the battery terminal so that it doesn't short out on surrounding metal.
Note that the Prius 12V battery is not a typical Flooded or Enhanced Flooded Battery. The Prius uses a deep cycle type AGM with a group size of 51P which I believe is not sold at Costco. Listed below are some batteries that are known to work:
Stock Battery replacement options:
Royal Battery Sales:
https://royalbatterysales.com/catalogue ... m-battery/
East Penn Deka 9A51P:
http://www.eastpenncanada.com/
sells for approx. $306 + taxes. (please note that single battery purchases from the parts counter at from East Penn in Ajax is not possible now due to Covid 19). East Penn supplies batteries to Toyota/Lexus, Canadian Tire, Parts Source, Napa, Carquest, Walmart, and a number of other companies under different product brands.
Canadian Tire Part #010-5122-6 (call to find out price and availability)
Part Source Part #010-9690-8 (call to find out price and availability)
East Penn Battery Lookup:
http://www.dekacatalog.com/
Optima 8171-767 DS46B24R :
https://agmautobattery.com/shop/8171-767-ds46b24r
<-- This is an upgraded battery from the current one that comes in the Prius
What does it cost to change this battery at a Toyota Dealership:
I priced out a replacement battery for a 2015 Prius at a local Toyota dealership and they quoted me the following:
Battery: $350 + taxes. The battery comes with a 5 year warranty. The first 2 years is non pro rated, and the remaining 3 years is pro rated at 50%. You will have to pay about $50 in diagnostic fees to check to see if the battery needs replacement.
Labour to install: $38.95 + taxes
If you are comfortable to change the battery yourself, you can save yourself well over $120
Last edited by
hightech
on Feb 20th, 2022 9:50 am, edited 118 times in total.