[Costco] $270 - Anolon Nouvelle Copper 10-piece Hard Anodized Cookware Set - HOT [Members Only]
Deal Link:

Retailer:

Costco

I just noticed this for the first time on sale at Costco. Might be cheaper in store, if anyone has seen them?
Excellent set if you want something nonstick, with copper and aluminium, and it comes with a full 12" skillet, not a 10" one that is normal at this price point. 12" is much larger and avoids crowding of food so food gets fried, not steamed.
This is why this an exciting set of pans. That's the sandwiching: very thin layer of copper, but in terms of thermal mass it counts for a lot more than the thicker aluminium layers that surround it. All Clad's famous 3-ply skillet has an aluminium layer of 1.7mm of thickness by comparison. This is 8mm!!
4 mm of aluminum + 0.6 mm of copper is comparable to over 5 mm of aluminum in terms of heat-spreading ability, and then you have a protective 0.5 mm thick layer of magnetic stainless on the bottom to make it more durable and induction-compatible. That's an impressive amount of heat-spreading ability already–comparable to the thick disc bottoms you see on many premium stock pots. But then consider that the hard-anodized aluminum cooking vessel on top of that is 2.54 mm thick (as measured by my pair of micrometers). Assuming Anolon isn't lying about the thickness of its base, we're talking the equivalent of ~8 mm of aluminum on the bottom. That's an epic amount of heat-spreading power–in theory it should rival 2.5 mm copper pans.
These pans come with lifetime warranties, and b) these pans use DuPont's top-of-the-line Teflon, which should be more durable than normal–so durable that the manufacturer claims you can use metal spatulas on it. If it weren't for the PTFE issue, these pans would score a perfect 5/5 on value because they are absolutely the best nonstick pans I have ever tried. You can even scramble eggs in them without a drop of oil, if you're calorie-counting. They are extremely even-heating (see above), incredibly comfortable to hold, induction compatible, and even easier to clean up than normal nonstick pans, due to the nonstick-coated, flush rivets.
You can read the entire review here:
https://www.centurylife.org/product-rev ... le-copper/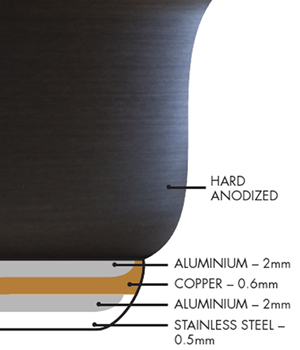 Here's a marketing video of the newer revision:
A nice detailed review from unshavenyak:
unshavenyak

wrote:

↑

You have raised some excellent points and I'd like to provide some perspective as to why these are interesting pans. A bit of background, I've been cooking since I was 7, worked every summer in the family Chinese restaurant from ages 14 - 18 and then did prep and saute stations to pay my way through university. I am by no means a classically trained chef (though I did a brief stint at Le Cordon Bleu), but I'm pretty decent in the kitchen (I never want to devein a shrimp ever again).

1. I fully agree that non-stick is disposable, but some non-stick is more disposable than others. If Teflon is to be believed, the PTFE coating on this pan has a melting point of somewhere around 600 - 700 F (though it probably starts degrading around 450 - 500 F) and has 400% the abrasion resistance of their next best coating. For context, that's about how hot an empty cast iron or stainless steel pan gets when you are searing. Most (sane) people are never going to heat a non-stick pan like that because they will already have fat in the pan and even the most stable oil, safflower, will smoke at 500 F. The Maillard reaction kicks in at around 320 F, which is about the smoking point for most commonly used fats (butter, olive oil and animal lards) and probably the ideal temperature for a saute. Simply put, this will safely be within the thermal range that most people cook and the coating should last. Also, most professional chefs beat the shit out of their pans.

2. The thermal properties of these pans are excellent, especially for the price. Heat distribution is nearly perfectly uniform with no hot spots. Their heat distribution is more even than some of the most expensive multi-clad pans. On top of that, they heat extremely quickly due to the use of copper and aluminum. I haven't done a side-by-side infrared thermometer test, but it is substantially faster than my All-Clad D5 pots and pans.

3. The non-stick coating is ridiculously good. It's better than my seasoned Lodge cast iron skillet and my Chinese carbon steel wok by a huge margin. I have never had a non-stick pan where I could literally make caramel, fry eggs or melt cheeses without any fat and have them slide right off. I imagine for the inexperienced or the time pressured, this is a huge selling point. It's also a great selling point for those looking to cut down on their caloric intake.

4. Anolon has added a number of thoughtful design touches. The pans are riveted, but they did it in such a way that the interior of the pan is flush. You don't need spend extra time cleaning under the rivets. On top of that, the non-stick coating is so slick that clean-up for me is pour warm water on them and wipe with a soft sponge. The handles are nicely curved with thick enough material that they do not get hot to the touch and feel good in the hand. My All-Clad handles are well...there's a reason why the comfort of All-Clad is famously contentious. The lids are convex, so you get more breathing room before spill over when boiling, allows more air circulation when braising or simmering and keeps the handle cooler to the touch. They are also, in my wife's opinion, really aesthetically pleasing.

I hope this helps shed some light on why these are interesting. No, they will not last you a lifetime like a good set of multi-clad, cast iron or carbon steel will. However, for most people, this should last at least a decade while giving them majority of the performance and features of multi-clad that will cost over 5x as much, while also having the benefits of the crazy good non-stick coating.
Anolon is the OG dishwasher safe nonstick cookware, but you'll extend the lifespan by not putting them in the dishwasher and using non-metal utensils. 2 users have reported scratches and bubbles in the coating. Keep an eye out for that and get them replaced.
Last edited by
Nikhilvoid
on Jul 4th, 2020 10:11 pm, edited 7 times in total.