[Dollarama] AERO SPORT • TRUE WIRELESS BLUETOOTH EAR BUDS (*OUR VERSION OF AIRPODS) • $4
Price:

4

Retailer:

Dollarama
AIRPOD knockoffs, don't expect them to be anywhere close to Apple quality, but could be worth a try for $4, after all I picked up Dudios from Amazon for $17, and for running and they've been great, good battery life too.
Spotted at Dollarama (Dixie/Dundas) Mississauga.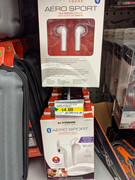 Last edited by
remik
on Oct 15th, 2020 9:48 pm, edited 1 time in total.