[Dollarama] TrackR Pixel -- Bluetooth Tracker (Tile Mate alternative) - $4
Price:

$4

Retailer:

Dollarama
Just spotted this @ Dollarama on Bloor close to West Mall. (Etobicoke)
All info can be found on their site:
https://www.thetrackr.com/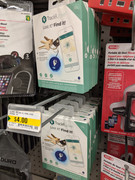 Find what's lost, even in the dark.
TrackR pixel is our lightest, brightest and smallest Bluetooth tracker with LED lights, loud ringer, and easy-to-use app.
Replace the battery, not your TrackR. For free. We even alert you when the battery is low, no downtime, no worry, no extra cost. Your TrackR will keep on finding.
Features:
-Loud ringer
-LED lights
-Ultra small & lightweight Phone finder
-Amazon Alexa Skill
Key Features
-bluetooth tracking device, locator tracker
-Attach to anything,TrackR pixel is perfect for keys, wallets, bags or anything you don't want to lose.
-Use the app to find it fast
TrackR uses Bluetooth technology to find items in close range—up to 100 feet away. Remember walls and furniture can impact that range.
Find what's lost—close to home and far away.
Lose something? Ring it.
Just press the ring icon in your app and if your TrackR is nearby—up to 100 feet away—it will keep ringing until you find it.
Item not nearby? Map it.
Out of Bluetooth range? Not to worry. With the app running in the background, you can see on a map where and when you last had it.
Last edited by
remik
on Sep 3rd, 2019 7:49 am, edited 14 times in total.