[Home Depot] Eufy Outdoor PRO 2K Camera w/ spot light • $67.50 - $71.99 PM w/BestBuy (reg. $130) • YMMV
Deal Link:

Price:

$67-90

Savings:

30-48% off

Expiry:

August 4, 2022

Retailer:

Home Depot
•••••• SOME RFD MEMBERS PRESSED THEIR LUCK AND WERE ABLE TO SCORE THIS CAMERA FOR $67.60 (PM TO REFURBISHED CAM FROM EUFY MARKETPLACE VIA BESTBUY.CA, THATS PRACTICALLY 50% OFF ••••••
All around, great DIY outdoor security camera/system.
I myself have been using the indoor version of this camera outside (under soffit) for over 2yrs now and it has been great, wanted to update to the official outdoor version but it rarely goes on sale (reg. $129) its popped up on costco.ca for $150 for a 2 pack but it goes out of stock in minutes.
Just noticed this camera went on sale for $100 on BestBuy and I was able to price match with Home Depot + 10% off.
Home Depot
https://www.homedepot.ca/product/eufy-s ... 1001649525
BestBuy
https://www.bestbuy.ca/en-ca/product/eu ... e/15446937
BestBuy (Open Box / Marketplace - Eufy)
https://www.bestbuy.ca/en-ca/product/eu ... x/15982549
BestBuy (Refurbished / Marketplace - Eufy)
https://bestbuyca.o93x.net/c/341376/644 ... r=PDP_Reco
***If making an attempt to PM BB marketplace make sure you do NOT mention that it's open box otherwise you'll get denied on the spot, they might not catch it. There is also $74.99 for refurbished but I have a feeling that would get spotted fast with "refurbished" in the title if trying to price match
Luckily Home Depot and BestBuy have this camera with the same model number (T8441121) so PMing should be simple enough.

Depending on the province you're in price should be $90 $72 + sales tax.
••••• YMMV - I WAS ABLE TO ORDER A SECOND CAMERA BY PRICE MATCHING BEST BUY - OPEN BOX FROM EUFY MARKETPLACE FOR $71.99 + HST. A NUMBER OF RFD MEMBERS WERE ALSO ABLE TO PRICE MATCH VIA HOME DEPOT CHAT FOR THE EUFY PRO (C24) OPEN BOX ($79.99) MAKING THE TOTAL AFTER 10% OFF ONLY $71.99+TAX. AN ALL TIME LOW FOR THE OUTDOOR C24, AS THE LOWER SPEC'D C22 (1080 [C22] INSTEAD OF 2K [C24]) WENT FOR $65 ON PRIME DAY •••••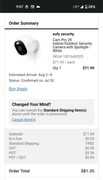 Last edited by
remik
on Aug 3rd, 2022 9:05 pm, edited 12 times in total.