Now the owner of an iGrill3 for $0.01!
Took my receipt in and pointed out the free iGrill in the flyer, the guy at customer service had been there when I'd bought the grill earlier this week. He agreed to do a replace and re-buy with my grill so I could qualify for the free iGrill, no questions, nice and straightforward. However, I don't think the coupon is set up for the Genesis LX models since they are clearout as it didn't process. He was happy to process it through, agreeing that it should work, but he had to charge me $0.01!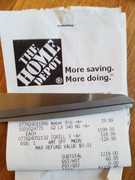 Got mine connected pretty easily. It has 2 probes so would need one to monitor grill temp and one for meat. Can buy 2 more if so inclined.