Social, Swap & Snack Tue Dec 3 530-7 OISE 252 Bloor St W 12th flr Nexus Lounge. Great View of DT TO
Deal Link:

Price:

FREE

Savings:

100

Expiry:

December 4, 2019

Retailer:

The Indigenous Education Network (IEN)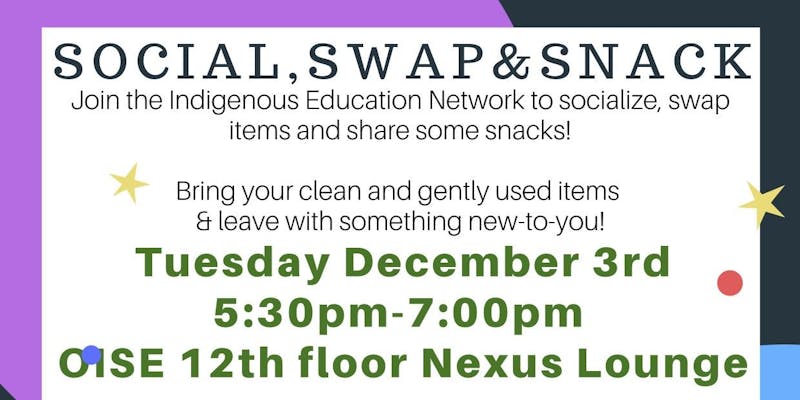 Register
Join the Indigenous Education Network to socialize, swap items and share some snacks!
Bring your clean and gently used items, and leave with something new-to-you!
WHAT TO BRING?
Small household items
New or barely used cosmetics
Clothing (all ages)
Craft supplies
Plants and Traditional medicines
Baby items
Toys
WHAT NOT TO BRING?
We will not be accepting items in poor condition, large items, furniture, undergarments, or books.
Items remaining after the swap will be donated to local Indigenous organizations.
SOAP & WASH YOUR HANDS! Cough InTo Arm Pits.
I Don't Take Prisoners. We Eat Them.
Better to have a Green Thumb than a Brown Nose!
I am Offended You're Offended.