Manulife Bank Advantage Account 1.5% with end of 3.35%/3.25% promotional period ***Updated July 17, 2019***
Deal Link:https://client.manulifebank.com/edo/#/p ... ID=DSP2019
Expiry:July 15, 2019
Retailer:Manulife Bank
"3.25% promotional rate is for a new personal, non-registered, Canadian-dollar Advantage Account. "
"
It's Canada's most useful savings account, according to The Globe and Mail
, and there's no monthly fee. "
"
Plus
High everyday rate of 1.50% after the promotional period
Free banking and unlimited transactions with a minimum balance of $1,000
No monthly service fees, no minimum deposit and no withdrawal restrictions
Access to more than 3,700 ABMs across Canada with THE EXCHANGE® network
Online & mobile banking to manage your money anywhere, anytime
"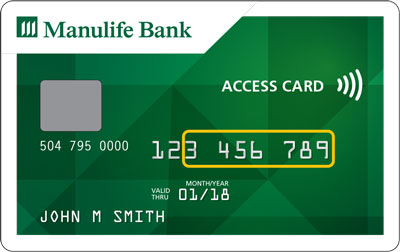 "Click here for full Terms and Conditions and for our current rates visit manulifebank.ca/rates " or read the following :

"
[quote]Advantage Account is offered through Manulife Bank of Canada. Manulife Bank, Manulife Bank & Stylized M Design, and Stylized M Design are
trademarks of The Manufacturers Life Insurance Company and are used by Manulife Bank under license.

3.25% Advantage Account Promotional Offer
Terms and Conditions
Manulife Bank's 3.25% Advantage Account Promotional Offer (the "Offer") is available to Manulife Bank
Advantage Account clients ("Eligible Account Owner(s)") who open a new personal non-registered
Canadian-dollar Advantage Account ("Eligible Account") between April 30, 2019 and July 15, 2019 (the
"Offer Period") using an exclusive URL or applying through an authorized Manulife Bank representative.
To qualify for this offer, a new application for an Eligible Account must be received and accepted by
Manulife Bank during the Offer Period. Each Eligible Account Owner can take advantage of this offer by
making Eligible Deposits as defined herein to their Eligible Account during the Promotional Period. The
Offer is limited to one Eligible Account per Eligible Account Owner.
Manulife Bank's 3.25% Advantage Account Promotional Offer, which is currently 3.25% ("Promotional
Interest") is made up of the regular posted variable annual interest rate of 1.50% ("Regular Rate") and
the variable annual promotional rate of 1.75% ("Promotional Rate"). Any change to the Regular Rate will
result in a corresponding change to the Promotional Interest. For example, if the Regular Rate of 1.50%
were to decrease to 1.40% the Promotional Interest would decrease to 3.15%. Subject to the limits and
qualifications outlined in these terms and conditions, Manulife Bank will pay the Promotional Interest on
net new deposits (funds not currently held in a Manulife Bank account) made during the Promotional
Period, up to a cumulative total of $500,000 ("Eligible Deposits") into your Eligible Account during the
Promotional Period. Any balance in excess of Eligible Deposits will earn interest at the Regular Rate.
The Promotional Interest will be calculated daily and paid monthly beginning on the date of application
and continuing 182 days ("Promotional Period") on Eligible Deposits made during the Promotional
Period. Any withdrawals from the Eligible Account during the Promotional Period will be subtracted
from the Eligible Deposit balance. The account must have a positive balance to be eligible for the Offer;
any deposits required to bring the account balance to zero are not eligible. Promotional Interest is
calculated daily on the Eligible Deposit balance and paid monthly as two separate interest payments:
the first calculated using the Regular Rate, the second calculated using the Promotional Rate. Eligible
Accounts must remain open and in good standing in order to receive Promotional Interest. After the
Promotional Period, all deposits will earn interest at the Regular Rate.
Manulife Bank reserves the right, in its sole discretion, to suspend, disqualify, limit or revoke the Offer
to any person or Eligible Account Owner(s) it finds or believes to be manipulating or otherwise abusing
the process, fairness, integrity or operation of the Offer. Manulife Bank also reserves the right to,
without prior notice, cancel this Offer and/or modify or vary these terms and conditions, in whole or in
part, at any time and for any reason at its absolute discretion. This Offer cannot be combined with other
promotional rate offers. If Manulife Bank is unable to run the Offer as planned for any reason, including
infection by computer virus, bugs, tampering, unauthorized intervention, fraud, technical failures, or any
other causes beyond the reasonable control of Manulife Bank which corrupt or affect the
administration, security or proper conduct of this Offer, Manulife Bank reserves the right at its sole
discretion to, without advance notice, terminate or suspend the Offer, in whole or in part, or modify it in
any way.
All rates are as at April 30, 2019 and subject to change without notice.
The Promotional Interest is an annualized rate.[/quote]
"
Additional information about the offered Manulife Bank Advantage Account compiled from commonly recurring post-reply Q&A :
Summary: "No monthly service fees" at ANY balance =/> $0 while every "Account balance" dollar earns the highest interest for an "unlimited chequing account" that has
"no charge" on all Deposits, Pre-authorized Withdrawals(PAPs), Exchange ABM Withdrawals, Writing cheques and fund transfers in/out
with External Account Link(s) (
pre-set here
).
Other debit transactions like Interac e-Transfer withdrawals and payments(debit card and bill) require maintaining a
minimum balance of $1,000 to waive their $1 fees and likewise be all unlimited free withdrawals
from the "Available balance".
[Reproduced
FAQ findings
from
@archonz
sib dig...]
[quote]Can my client have more than one eligible account?
No, the offer is limited to one account per client. If it is a joint account, the account is considered the primary
account holder's eligible account. The secondary account owner would still be able to have another account as
eligible as long as either the account is an individual account or they are the primary account holder.[/quote]
[Thanks to
@profile
post #563
for first sharing troubled Manulife Bank call experiences opening a joint account and
@goodzyk
post #705
for sharing the e-mailed process to open joint Advantage Account(s) by joint applicants finding a Manulife Financial Advisor(
click here
) to do it or by all together calling Manulife (
contact here
) after primary and secondary owners opened separate accounts. "Now please note that if you or your joint account holder gets put on manual review when set up online, you will have to wait until both accounts are off hold and active", although from later post-replies here its apparent completion by manual ID/credit check might be expedited by calling them ready with up to date proof identifying applicants.]
[quote]Do existing clients need to open a new Advantage Account to benefit from the 3.25% offer?


Yes, for existing clients who want to benefit from the 3.25% they will need to open a new Advantage Account

.
If an existing client wants to open a new account the easiest method is for them to sign in to their online banking
and click the 'Open a New Account' option on the left-hand side. This is an express application that will pre-populate
all of their existing client info, including their financial advisor.[/quote]
[Note that you can "sign in" directly through that Dealer Link:https://client.manulifebank.com/edo/#/p ... ID=DSP2019 when you choose "Yes. log me in" if "Already have an account here and bank with us online", which Manulife T&C decided facilitating this be available for everyone to presumably appreciate also their existing loyal banking customers be kept happy depositing anew.]
How will clients know if they are receiving promotional interest?

Clients can view their promotional interest rate through online banking under account details

. Promotional interest

will appear as a separate month-end transactions which can be viewed anytime using online or mobile banking as

well as on the client's account statements.
For Manulife answers to frequently asked questions go to:
https://www.manulifebank.ca/support/about-us/faq.html
For Manulife Bank, the institution number is 540 and the transit number is 05012. If you need your account number, you can find it on the Accounts page.
Better still - if you need a void cheque, you can print one off from the left-hand menu after you've logged into our online banking site.
If you have questions about your transaction limits or need to exceed that limit, please contact us and we'd be happy to help.
[E.g., Do one shot quick transfer rather than do multiple transfers each within their
$50,000 EFT limit per transaction via Manulife Bank
.]
For Manulife mobile banking app HOW-TOs go to:
https://www.manulifebank.ca/support/cus ... w-tos.html
Deposit a cheque anywhere, anytime by taking a photo or by
Finding ABMs
on the go with Manulife Bank mobile banking app
"Deposit personal, business, government, convenience and counter cheques, as well as money orders – each with a maximum value of $100,000"
For an overview on the standard hold policy, what transactions are all free or "no charge" with chequing balance of $1000+, what are free below $1000 and what are not free , click
here
for the Manulife Bank Services and Fees Guide.
You may also wish to "search" for other Manulife promotion(s) perhaps through your Manulife financial advisor and confirm any personal offer(s) currently available to you like the previous targeted ones this year :
If you are "Manulife Group Benefits and Group Retirement Plan member" then "congratulations - you're eligible" as per @manulifebank for this group's 3.35% promotional offer applying over here that expires May 15, 2019 July 15,2019.
"As a George Brown College alumnus, you can now take advantage of promotional offers that could put a little more money in your pocket with Manulife Bank" and be also eligible for that alumni's 3.35% promotional offer applying over here that expires May 15, 2019 July 15, 2019.

More Disclaimers: For at least six months Manulife Advantage Accounts could steal
liquid day to day money
from "direct deposits" waiting in Big Banks' and its
affiliates
' low interest
legacy
chequing accounts while it help grow fintech service innovation challenging competitors Alterna Bank, EQ Bank and other chequing-HISA hybrids in the future.
Last edited by
U08052018
on Jul 17th, 2019 7:59 am, edited 5 times in total.