MBNA Smart Cash MC/Visa
Current card design (as of post last edited date):
Visa
(Card image thanks to EugW)
MC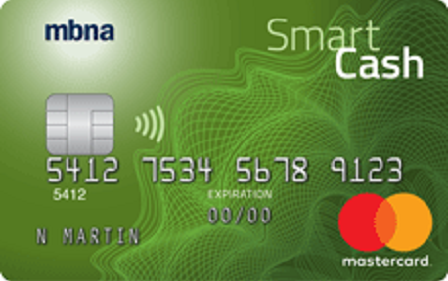 Application link:
https://apply.mbna.ca/applicationform/g ... cale=en_CA
Update 16/11/2017: There is a $39 annual fee for the card now. Looks like current cardholders are grandfathered.
SPECIAL NOTE: SC World being converted to Visa Infinite
As the title mentioned, all SC World cardholders are being converted to Visa Infinite. Old benefits/reward structure/PIN will not change and the holder will be able to use Infinite benefits such as Concierge. However, pre-authorized payments will change so make sure you update that. Your SC World will be deactivated starting Dec 1st, 2016 if you do not activate the Visa. Why did MBNA suddenly decide to do this? Your guess is good as mine.
Refer to the pamphlet posted by EugW for more info:
here
,
here
and
here
[/b]
Application process:
The application itself is for applying to the MBNA Smart Cash Platinum Plus AS WELL AS the MBNA Smart Cash World. After you have applied, MBNA will determine if you qualify for the Platinum Plus or World (or maybe deny your application), refer to
here
. There is no way to directly apply for the World Version anymore.
How to speed up the application process + raise credit limit:
If you don't want to wait 2-3 weeks to see if you are approved or not (I sure don't want to!

), you can call MBNA @ 1-888-877-6262
2-3 business days
after you applied. Ask for a credit analyst once your call gets through. The credit analyst will then be able to tell whether you are approved or denied right away. If you got approved and felt that your credit limit is too low, you can ask the same credit analyst for a credit limit increase. Note that it will be another hard hit to your credit score.
Note:
The actual card will take up to 2-3 weeks to get to you unless you somehow convinced MBNA to courier to you for whatever reasons.
How this card works:
You earn
1 MBNA Dollar
for every $100 you spend (For SC Platinum holders, you can earn up to $12.50 MBNA Dollars on $1250 spending per month. Anything after that will not net you any cashback until the next month. This does not apply to SC World holders). For gas/groceries, you earn
2 MBNA Dollars
per $100 spend up to
8 MBNA Dollars
every
calendar
month ($400 spending). After the $400 monthly limit, you will earn the normal 1 MBNA Dollar for every $100 spent until the next month. The number of MBNA Dollars will calculated to 2 decimal points. If the number following the two decimal points is 5 or greater, then the number of Dollars earned will be rounded up. i.e. $167.75 = 1.68 MBNA Dollars.
During the 6 month promotion period
(starts on the day that your card was approved, NOT activated)
, you can earn
5 MBNA Dollars
per $100 spent on groceries/gas stations to a maximum of
20 MBNA Dollars
($400 spending) every
calendar
month.
Canadian grocery/gas merchants (5541, 5542, 5411) that get 2 MBNA Dollars
:
http://www.redflagdeals.com/forums/8587299-post411/
(Note: It is possible to get 2% from international gas/grocery vendors as long as they fall into the MC grocery/gas merchant codes)
(Note #2: It is also possible to NOT get 2% from local gas/grocery vendors if they DO NOT fall into the MC grocery/gas merchant codes)
How to redeem cashback:
You can redeem cashback by going to the Rewards page of the card (go to the Rewards tab on online banking). You can redeem every 5000 points and the redemption method can be by cheque, bank deposit or a statement credit. Refer to
here
.
World Version Upgrade:

It is possible to upgrade to the World Version right now for no annual fee if you have $60,000 income, $100,000 household income, or $15,000 annual spending. The upgrade will take up to 5 business day to go through (and 2-3 weeks for the new card to arrive) and all your points from your original SC will get transferred as well. Once upgraded, the card will give you another 6 months of 5% cashback for groceries/gas (starts the moment your card is upgraded, you can still use the current card until you activate the new card), price protection (up to $500) and concierge service. The World version will also remove the $1250 1% cashback monthly spending limit on the platinum version (Read above for more details).To check if you qualify for the upgrade, you can: (1) call mbna, (2) log into the website for Smart Cash cardholders (listed below) and click on "Special Offers". If you don't qualify, the page is blank, or (3) check through MBNA Online Access - Rewards tab. Since your card # will change after the upgrade, all pre-authorizations will have to be setup again.
TD Takeover
A little more than a year after the TD takeover, this card has been decreased to 2 points per $1 for $400 monthly spending of gas and groceries for new applicants. There will also be a $1250 monthly spending limit on 1% cashback for Platinum Plus cardholders. Current cardholders will share the same fate starting December 1st.
Miscellaneous stuff:
MBNA Smart Cash Program - Terms & Conditions:
Page 1
,
Page 2
,
Page 3
(Credit to vm_fan)
Platinum Plus coverage guide:
Page 1
,
Page 2
,
Page 3
,
Page 4
,
Page 5
(Credit to vm_fan)
Finally...
It's very sad to see this card turning from one of THE BEST credit cards in Canada to what it will be soon (or what it already is for new applicants), just like the old saying: "all good things must come to an end"...
RIP Smart Cash 22/10/12
I am officially Smart Cash free.
RIP My Smart Cash 28/02/13
http://forums.redflagdeals.com/mbna-sma ... st16428592
Updates:
NOTE (28/10/2016)
: There a lot of SC holders that got their SC World converted to Visa Infinite.
NOTE (30/09/2014)
: After the MBNA system transition, it seems that you can now request a statement credit, a bank deposit and a cheque for your cashback redemption instead of just being forced to redeem by cheque. Refer to
here
. The CB system has also been converted to a MBNA Dollar system. Refer to
here
.
Last edited by
titaniumtux
on Jul 27th, 2018 9:10 pm, edited 2 times in total.