multiple monitor cable
Folks,
Looking for a cable, if it exists that would project from say vga but offer multiple options on the other end of the cable for rca, dvi, vga, hdmi, etc...
Does this exist? I can't seem to find anything on startech. Would I be better off getting a usb3 to vga and would this work on macs?
Like this: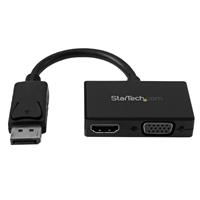 Situation, multiple laptops, some without vga that have display port, etc..., 1 projector.
TIA.
DYI difficulty scale:
0-joke
10-no joke