Need advice on laundry room: counter over washer/dryer, no counter, or no counter but pedestals?
As the title says: I am having a hard time deciding what to do with my new laundry room. Here's a picture of a laundry room that I really like: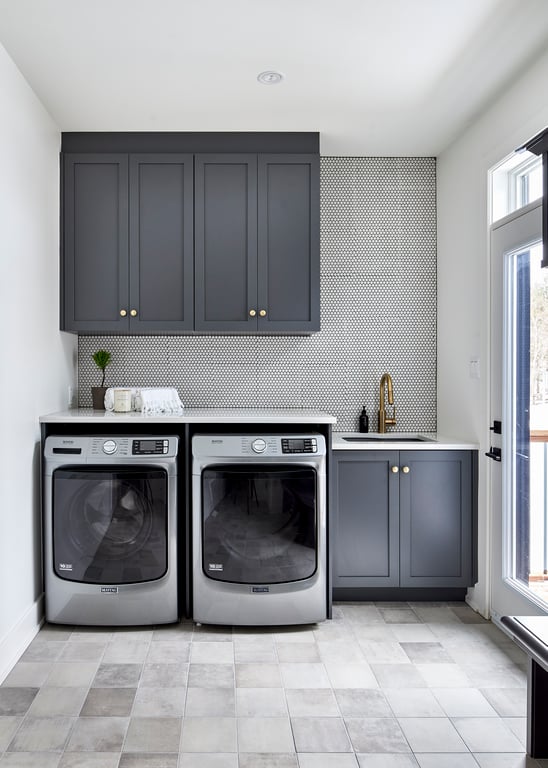 My laundry room will be the same setup, with upper cabinets above the side-by-side front-load washer/dryer, and a sink with cabinetry/countertop beside the washer/dryer. (Although my sink half will be longer than the one shown in the picture.) Which option do you guys think is best:
1) Exactly like in the picture, get the countertop over the washer/dryer. (Pros: I think this looks best, long countertop has practical use. Cons: expensive! And perhaps more trouble getting the washer/dryer in and out?)
2) No counter over washer/dryer. (Pros: cheapest option. Cons: doesn't look nearly as nice.)
3) No counter over washer/dryer, but get pedestals underneath the washer/dryer. This will boost the height so there will only be a few inches between the washer/dryer and the upper cabinets, so no need for a counter. (Pros: I've heard some people rave on about how nice it is to have the washer/dryer at a higher height. Cons: probably looks better than option #2 but still not as sleek and chic as option #1. Also I notice that these pedestals are ridiculously expensive??? Like $300 each. Wow. But then again, this is still cheaper than option #1...)
Would appreciate any input! Thanks.