Asus Certified RT-AC3200 Tri-Band AC3200 Wireless Gigabit Route (Refurbished) $159.99
Deal Link:

Price:

$159.99

Savings:

20%

Retailer:

Newegg Canada
Asus Certified RT-AC3200 Tri-Band AC3200 Wireless Gigabit Router
** FREE Shipping ***
Asus RT-AC3200 Router
Intelligent Tri-band Wi-Fi for All Your Devices
With two separate 5GHz bands and a 2.4GHz band, the RT-AC3200 is a tri-band 802.11ac router that takes your wireless network to the next level. With the super-fast combined data rate of 3200Mbps (1300Mbps on each 5 GHz band plus 600Mbps on the 2.4GHz band), RT-AC3200 allows every device to work at full speed, ensuring lag-free online gaming, silky-smooth 4K UHD video streams, and effortless downloading. The Tri-Band Smart Connect technology automatically assigns the most appropriate band to your wireless devices for best possible performance. And ASUSWRT graphical user interface makes setup as easy as a snap. Hardware-wise, the RT-AC3200 features dual-core processor, six external antennas, a USB 2.0 port, a USB 3.0 port, a Gigabit WAN port and four Gigabit LAN ports for fast wired networking performance.
Revolutionary Hardware
Inspired by the gamer-centric G series notebook, RT-AC3200 borrows its design concept from a Stealth Fighter jet with understated curves that exude power and sophistication.
Dual-core processor - Robust multitasking performance that effortlessly handles your most demanding internet tasks from all your connected devices simultaneously.
Six External High-performance Antennas – Dual 802.11ac networks each configured with its own 3T3R configuration allows more devices to connect faster with better stability.
Dual USB ports – Connect a printer, 3G/4G dongle or USB storage device and, with USB 3.0, experience up to 50MB/s read and write transfer speeds*.
* USB 3.0 rates tested with USB 3.0 compatible devices for theoretical use only. Product and system settings may affect USB 3.0 performance.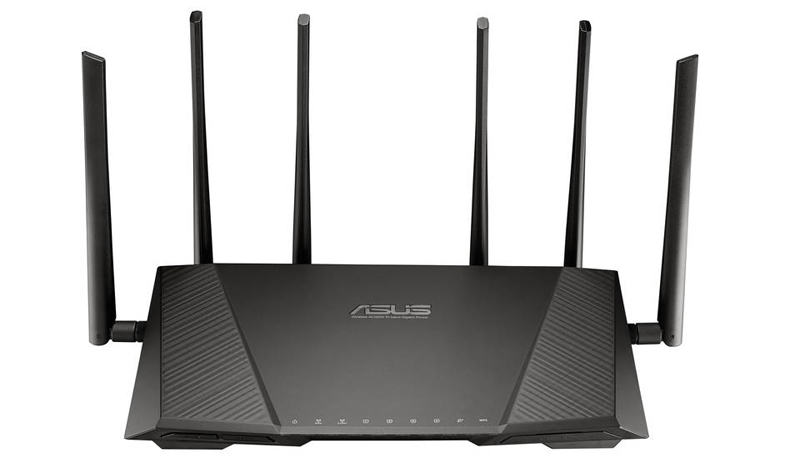 96TB Mediasonic H82-SU3S2 / 72TB Raid 50 on Mediasonic H8R2-SU3S2
48TB Node 304 / i5-3570 / Server 2016 Essentials
12TB HP Mediasmart EX 495 (E8400, 3.0GHZ, 4GB Mushkin), with Server 2016 Essentials
16TB Qnap TS-459 Pro