PC Optimum Points Days (Jan 27 - Feb 2)
Deal Link:

Expiry:

February 2, 2022

Retailer:

PC Optimum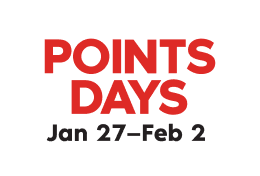 Wait, how does Points Days work?
Follow these tips:
Have a PC Optimum™ card? Register by creating an account at pcoptimum.ca.
Download the app to get exclusive offers and points.
Check your offers feed on January 27, and let the points party begin!
From January 27—Feb 2, 2022 only, at across 4500+ locations in Canada, the PC Optimum™ Points Days event will provide PC Optimum™ members with the opportunity to earn PC Optimum™ points through special offers and promotions across locations where PC Optimum™ points can be earned. During our 2021 Points Day event, over 18 billion were earned collectively by our members. For this 2022 event, billions of points are available to be earned again. For a list of participating locations and complete program details, please visit pcoptimum.ca/pointsdays.