[Real Canadian Superstore] [ON] Neilson Trutaste Microfiltered Milk 4L 2% 1% or Skim $4.29 [Mar 10 - Mar 16]
Deal Link:

Price:

$4.29

Expiry:

March 16, 2022

Retailer:

Real Canadian Superstore
Not as low as No Frills had a few weeks ago
(GTA Ontario) Neilson Trutaste filtered 2% Milk $3.99 4L bag. New Flyer starting Feb.17 - 23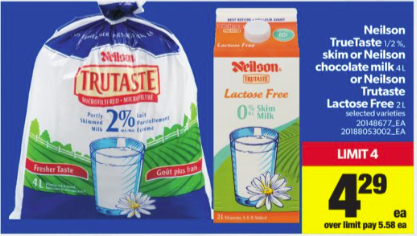 A brief look at microfiltered milk and its many benefits
https://www.neilsondairy.com/en/tips-an ... tered-milk
What is microfiltration?
All milk, no matter the variety, takes more or less the same journey to get to your glass. Upon its arrival at the factory, milk is skimmed and then pasteurized. The extracted and pasteurized cream is combined together, thus giving us 1%, 2%, or 3.25% milk.
Here's the difference with microfiltered milk: The milk is skimmed first and then strained using a microscopic filter. This step is a one-of-a-kind purification process that eliminates up to 99.9% of impurities, resulting in a refreshingly creamy finished product.
Destiny is all