[Sobeys] Safeway/Sobeys/IGA(west) Air Miles Blue Friday - May 31,2019 one day only
Price:

various

Savings:

various

Expiry:

May 31, 2019

Retailer:

Sobeys

Safeway/Sobeys/IGA(west) Air Miles Blue Friday - May 31,2019 one day only
This once a month event is on again (and back on track as the last Friday of the month).
There are Bonus Air Miles (BAM) on various deals, such as Tostitos tortilla chips and salsa at 4/$11. Buy 4, get 50 BAM (worth ~$5), so price per unit is $1.50. That's a hot salsa deal.
I didn't notice any other super HOT deals but maybe I missed it in the flyer. Feel free to post any noteworthy deals.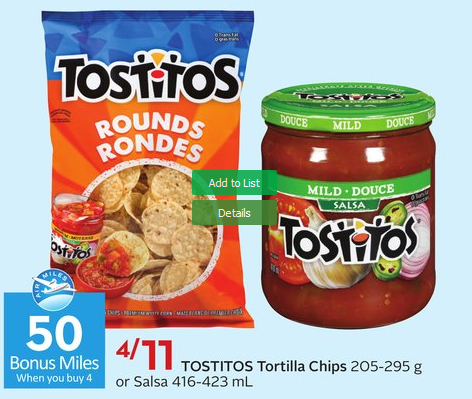 Literally by doing nothing at home, you can save lives during the Covid-19 Crisis.

Keep physically distant but socially connected.

Sask distracted driving - the old fashion way - with alcohol and MJ.