[Sporting Life] Wilson Clash 98 tennis racquet 40% off - $154.98
Deal Link:

Price:

154.98

Savings:

40% off

Retailer:

Sporting Life

Found the Wilson Clash 98 tennis racquet on sale for 40% off at Sporting Life (all grip sizes still available). Too bad their additional 10% off doesn't apply (you do get free shipping for orders $99 and up)
Don't forget Rakuten 3% rebate.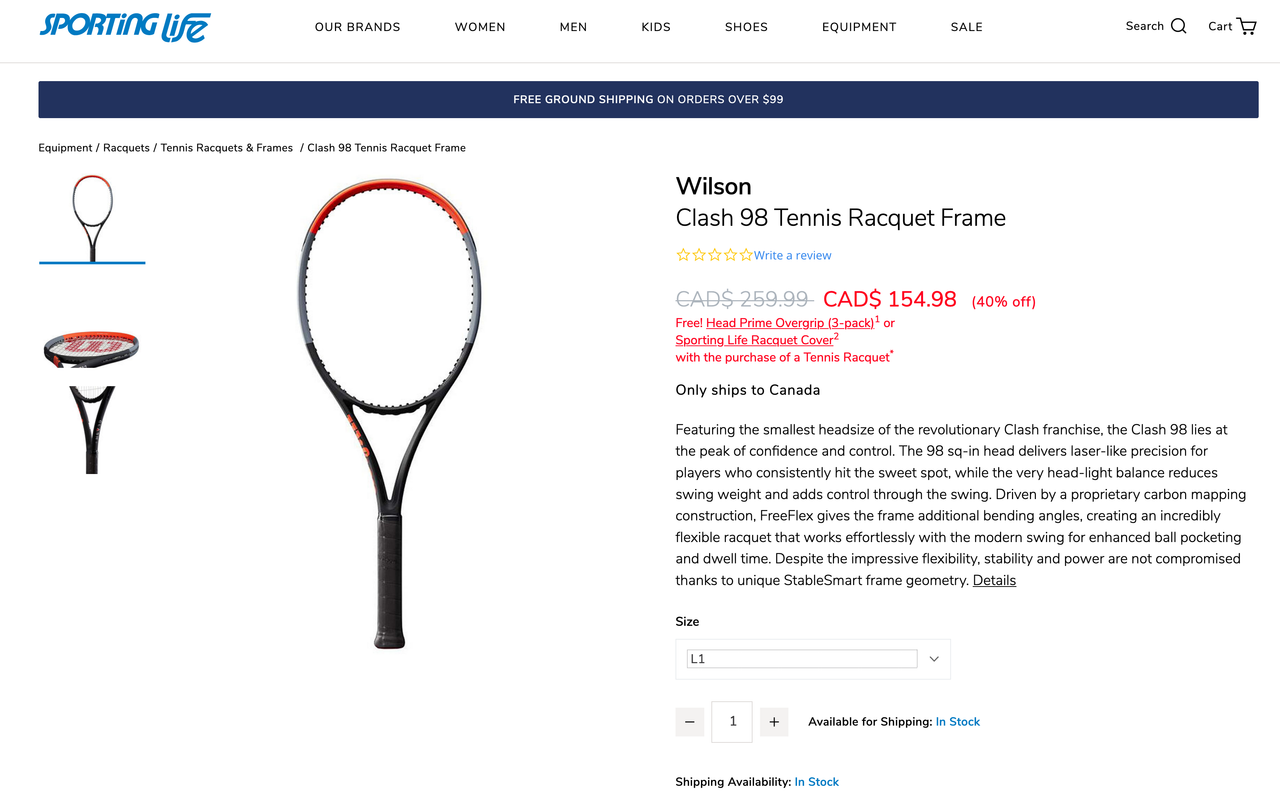 The racquet comes unstrung, but if you buy strings from them then they waive the stringing costs (you'll likely need to wait for the stores to open again to get it strung). It also come with a bonus 3 pack overgrip or else a racquet cover (most folks paying this much for a racquet will likely have their own racquet bags already).
My teenage son and I have both been playing with the Wilson Clash series racquets for the past year and we've been very happy with them. My son is a bit better than me, since he went for weekly high performance tennis camps, whereas I'm a mostly recreational player and play some club mixed doubles games with the middle aged crowd.
After tons of online research, I narrowed down the list and we demo'ed a lot of racquets last spring/summer, from all the major brands. I was focused on mostly easy to hit racquets, standard weight and not overly stiff, but with decent balance of power, spin and control.
I first bought the Clash 100 and played with it a lot last summer. Improved my game a lot over the old Babolat racquet that I was using (the tech nowadays can overcome a lot of technical mistakes from a player, based on my own personal experience). But as I slowly improved my playing skills, I noticed that I had shots that I was missing in placement when trying to put away opponents. That's where the Clash 98 comes in. Initially I found it hard to hit due to the slightly smaller sweet spot. But later in the fall, I demo'ed the 98 again and fell in love with it. My accuracy was better and had a touch more power and spin. Hard shots from opponents were returned better, and net touches were more accurate.
So overall if you are a beginner/intermediate and want the softer flex racquet, give the Clash 100 a try. If you are a bit more advanced and want more control, then the Clash 98 is the way to go. Just don't expect the booming power and spin of some other racquets.
Reviews of the 98:
https://www.tennis-warehouse.com/review ... eview.html
If you want the Clash 100, it's on sale at Sportium for $215.99:
https://www.sportium.ca/en/wilson-clash ... TSEALw_wcB