[Staples] Logitech MK570 Comfortwave wireless Keyboard/mouse combo- $55 plus 25% off YMMV
Deal Link:

Price:

41.25

Savings:

63%

Retailer:

Staples

YMMV for sure...
Doesn't show clearance price online and not sure if applicable in all stores... was in Tecumseh Rd Staples in Windsor last night looking for the DJI Backpack (found one!), and saw 3 of the MK570 wireless keyboard/mouse combos sitting in with the clearance items like camera bags, ipad covers etc... no price. Took it to the cashier and she said it was ringing up at $54.99 (regular price is $109.99). So I then asked if the code from the webpage would work (87447) which she tried and it brought the price down to $41.25. I guess this is not considered a technology product, they must mean computers, tablets, cameras, printers?
I paid $60 on Amazon last year and use it at work daily, LOVE IT.
Here is the item.
https://www.staples.ca/products/2800701 ... ouse-black
Stocktrack link
https://stocktrack.ca/?s=st&sku=2800701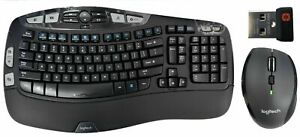 Apparently it's available at Walmart.ca for $70, also a great deal.
https://www.walmart.ca/en/ip/logitech-c ... lsrc=aw.ds
Last edited by
jackass_ca
on Jan 18th, 2022 12:19 pm, edited 2 times in total.
The first rule of RFD is, you do not talk about
RFD
.
The second rule of RFD is, you
DO NOT
talk about
RFD
.