[Ticketmaster] Toronto Blue Jays - Eleven (11) April Home games - 500 level seats - $59 (no taxes/fees)
Deal Link:

Price:

59

Retailer:

Ticketmaster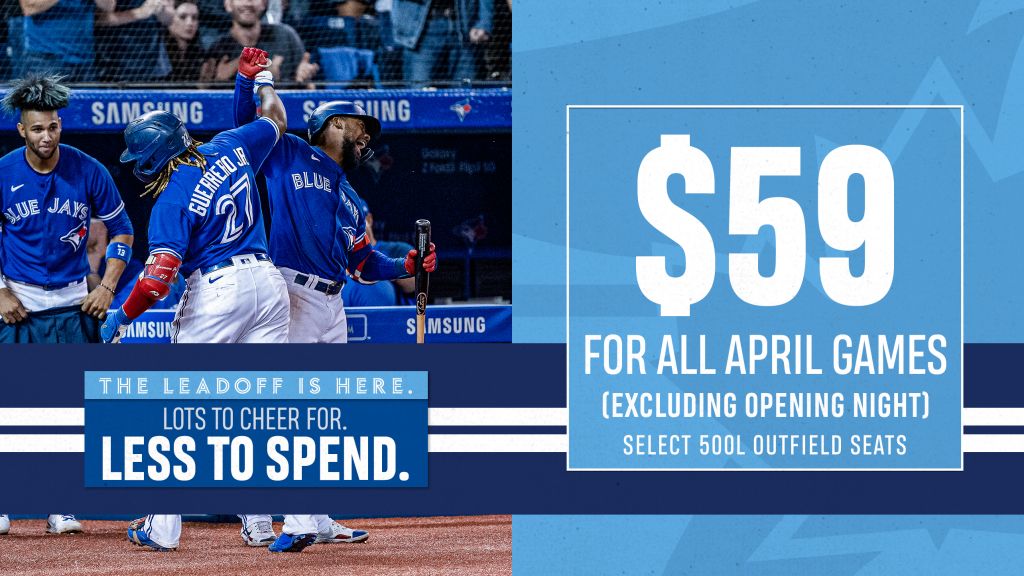 3/24 edit: Promo is live again for eleven (11) home games at the Dome; home opener allotment now sold out. 11 games for $59 all-in.
All 12 April home games, 500 level seats (assigned at random) for $59. (No taxes or fees, $59 all-in !)
Single game 500 Level seats are roughly $17 to $28 bucks before tax, depending on opponent and day of the week. So you'll come out ahead if you attend 3 games. They announced the season opener late, due to the lockout so its still not sold out.
If you live downtown, this isn't a bad way to pick up the giveaway items during April. There's 4 different bobblehead giveaways (Hello Kitty, George Springer, Bo Bichette, Snoopy/Woodstock dog house) during the promo period. (Note you still need to upgrade to specialty ticket for the Hello Kitty and Snoopy bobbles)
Jays promo schedule to see pics of giveaway items:
https://www.mlb.com/bluejays/tickets/pr ... s/schedule
Offer details per site:
The Leadoff includes all 12 April games (including Opening Night presented by TD) – for a low price of just $59!
Seats located in the 500 Level Outfield
Limited quantities available that include Opening Night presented by TD
Mobile entry only; tickets cannot be resold
Leadoff FAQ
What happens if Opening Night presented by TD is sold out?
Limited Leadoff packages are available that include Opening Night presented by TD on Friday, April 8 at 7:07pm. If Opening Night is sold out, the Leadoff will be available for the remaining 11 home games in April.
Where will my seats be located?
The Leadoff seats are located in the 500L Outfield, and are assigned at random based on best available seating for that specific date. Seats will be added to your account on or before April 1, 2022. You will be notified when seats are added to your account.
How do I access my Leadoff tickets?
Tickets will be available to be managed through the MLB Ballpark App, or online through your Toronto Account Manager. Leadoff tickets will be available to manage and view the week of Opening Night.
Can I exchange my tickets?
Leadoff tickets are not available for exchange. The purchaser of the Leadoff must be present when entering Rogers Centre on the date of your game.
Can I resell my tickets?
Resale of Leadoff tickets is strictly prohibited. Tickets will be returned and cancelled if attempted to be resold.
Can I purchase beside my friends?
Leadoff seats will be assigned at random based on best available seats. There is no guarantee that your tickets will be close to other Leadoff purchasers. We encourage you to purchase the Leadoff for you and your friends as part of the same transaction so that you will be seated together.
How many tickets can I purchase?
Fans can purchase a maximum of 8 Leadoffs.
Last edited by
Madchester
on Mar 24th, 2022 12:05 pm, edited 7 times in total.