[Walmart] BLACK JACK 7 Pieces 2 Ton Trolley Jack Combination Kit $69 or Less (YMMV)
Retailer:

Walmart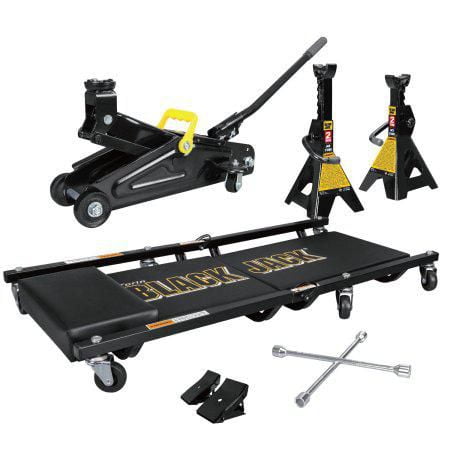 BLACK JACK 7 Pieces 2 Ton Trolley Jack Combination Kit
https://www.walmart.ca/en/ip/6000198581361
https://stocktrack.ca/?s=wm&upc=61526882206
Product details
The Black Jack 7-PCS 2 Ton Trolley Jack Combination Kit is a great addition to any garage. The kit includes a 2 ton trolley jack, a pair of 2 ton jack stands, a 36 inch six-wheel folding creeper, a pair of folding metal anti-skid wheel chocks, and a 14 inch chrome plated lug wrench.

Durable steel construction.
Jack stand racks automatically lock into position.
Creeper is fully padded and folds up for storage.
2-ton floor jack features carrying handle and protection against overpumping.
2 Ton Trolley Jack. Lifting Range of 5-5/16 inch to 13 inch.
2 Ton Jack Stands. Lifting Range of 9-13/16 inch to 14-15/16 inch.
36 Inch Six-Wheel Folding Creeper. 250 lbs Loading Capacity.
Folding Metal Anti-Skid Wheel Chocks.
14 Inch Chrome Plated Lug Wrench.
58