[Walmart] Hoverboard -No Fall/Fires Technology $199
Deal Link:

Price:

199.99

Savings:

66%

Expiry:

December 27, 2020

Retailer:

Walmart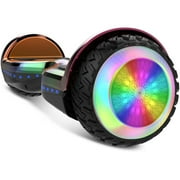 UL Listed so these do not nullify your home/fire insurance. The battery problems from the past have been fixed along with the falling and breaking your limbs issue. Self balancing now. Since walmart doesnt inflate prices for a sale, this looks like a great deal!
Update: user rittoz found it $30 cheaper in the
BestBuy marketplace
:
Dont forget to pick up
the discounted go kart kit with suspension
, so you can sit down too. This beats the Tesla Cybertruck to market, a budget-minded option. This makes it more stable for the older ppl

Maybe use it like an easy to transport E-bike? 164lbs weight limit. 12km/h max speed. 2-4 hr charging. 9km max range. Max 90mins drive time.
There are more colors available for the same price, and some with bigger tires but with less of a discount. Just scroll down on the walmart page and you will see a bunch. I have always wanted one of these but Walmart wont let you shop with them last time I checked. Shopping on concrete floors in huge stores would be the best use for me but since we cannot do that, I am not sure what you can do with these as an adult.
Much more fun than a wheelchair for the grandparents. Here is a demo, with small kids:
Last edited by
realBIGmike
on Dec 20th, 2020 9:02 pm, edited 4 times in total.