[Walmart] Progear 1600 Ultra Strength 800lb Weight Capacity Power Cage -- $349 + $39 shipping
Deal Link:

Price:

$349

Retailer:

Walmart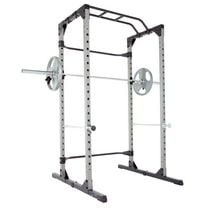 This is a decent price for a highly rated cage that's in stock. I decided to finally upgrade my half rack and grab this.
It's the exact same thing as the 810XLT that's going for $443, with the only difference being the j-hooks (better IMO).
Unfortunately there's $39 shipping, and store pickup is not an option, so the shipped price is $388 + tax.
You may notice some negative reviews saying the support bars in the back hit your head when you're racking/unracking, but all you have to do is to move the j-hooks to the inside of the front uprights.
So you'll still be squatting inside the cage, but you'll be racking/unracking your bar from the front uprights with no support bar to interfere.
•800 lbs weight capacity
•Large walk in space providing easy side to side movement
•2" x 2" square steel frame construction
•Two J-Hooks with easy lock-in design for racking/un-racking Olympic bars
•Two 23" long chrome dual mounted safety bars
•19 adjustable height levels for the safety bars
•Safety bars are compatible with 7' Olympic bars
•Multi-position over head chin up/pull up grip bars
•2 rear stability bars
•Warranty: 1 Year Limited
•Set up Dimensions: 50.4" L x 46.3" W x 83.7" H
•Set up Weight: 127.4 lbs