[Walmart] Watermelon season has arrived! $3.97 (11 LB average)
Price:

3.97

Savings:

43%

Expiry:

June 5, 2019

Retailer:

Walmart

Walmart - Watermelon season has arrived! $3.97 (11 LB average)
Large watermelons started selling for $7-8 a few weeks ago, but now summer is arriving and prices are dropping.
Walmart has large watermelon (11 LB average) on sale this week for $3.97 (reg $6.97) until June 5.
Hopefully, RCSS will price match because it's closer.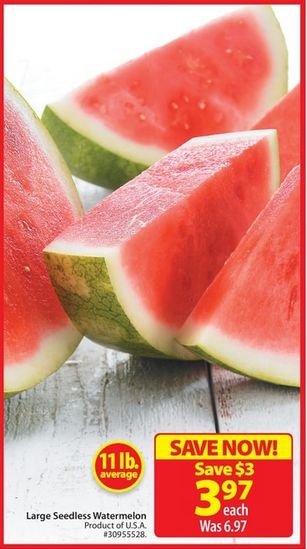 Last edited by
saskwatcher
on May 31st, 2019 12:58 am, edited 1 time in total.

Literally by doing nothing at home, you can save lives during the Covid-19 Crisis.

Keep physically distant but socially connected.

Sask distracted driving - the old fashion way - with alcohol and MJ.